A bit of competition can work like a charm to get your audience to pay attention and help them remember the presented information. Test knowledge of your participants or run a fun quiz during your event.
To see who got the most answers right, show the leaderboard at the end.

This is how a typical Slido quiz is run:
Set up your quiz
Quizzes, polls, surveys, audience questions, and ideas are all included in a Slido event. You need to create an event before setting up a quiz: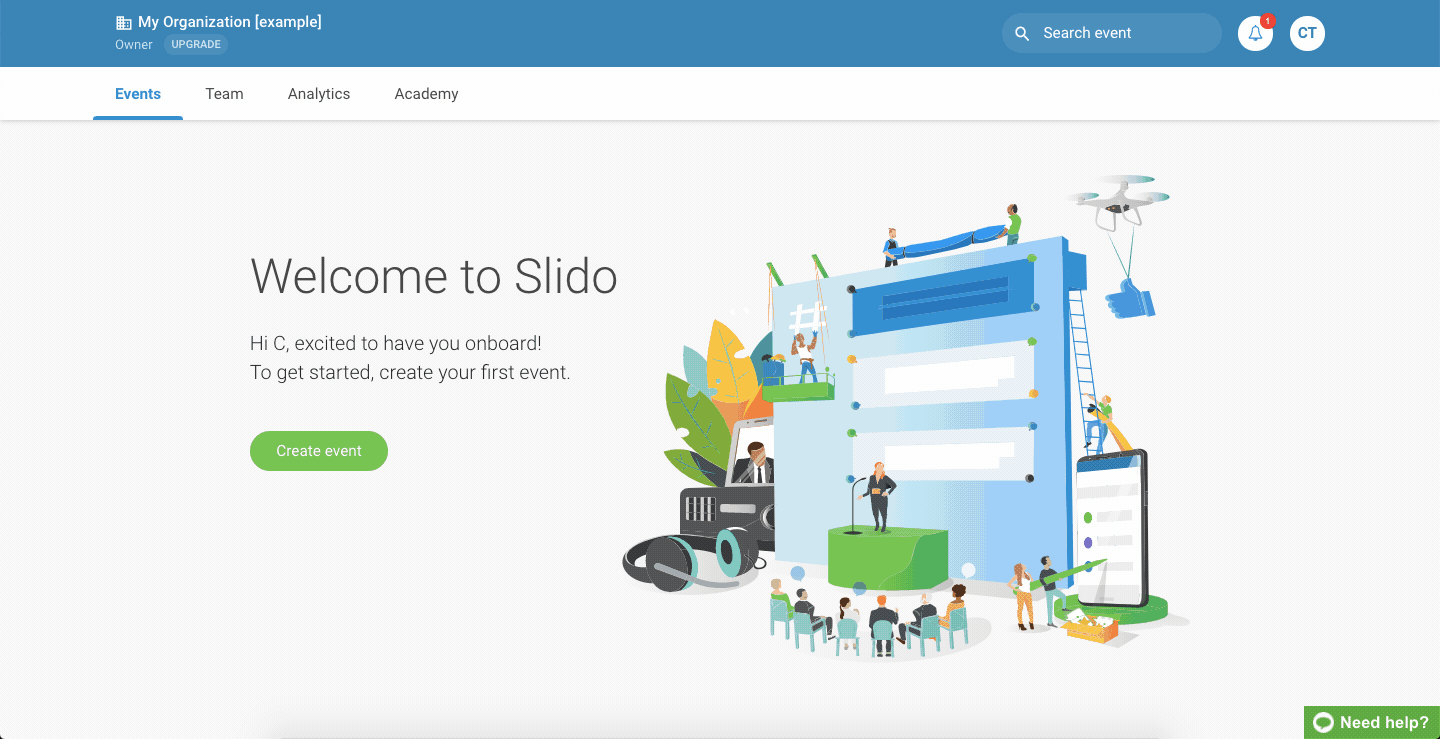 Once you do so:
Go to Live Polls tab and select Quiz
Type in your questions and options
Mark correct answers in each question
Enable timer
The quiz is a set of multiple-choice polls. You'll need to add at least two options for each quiz question and mark single or multiple correct answers.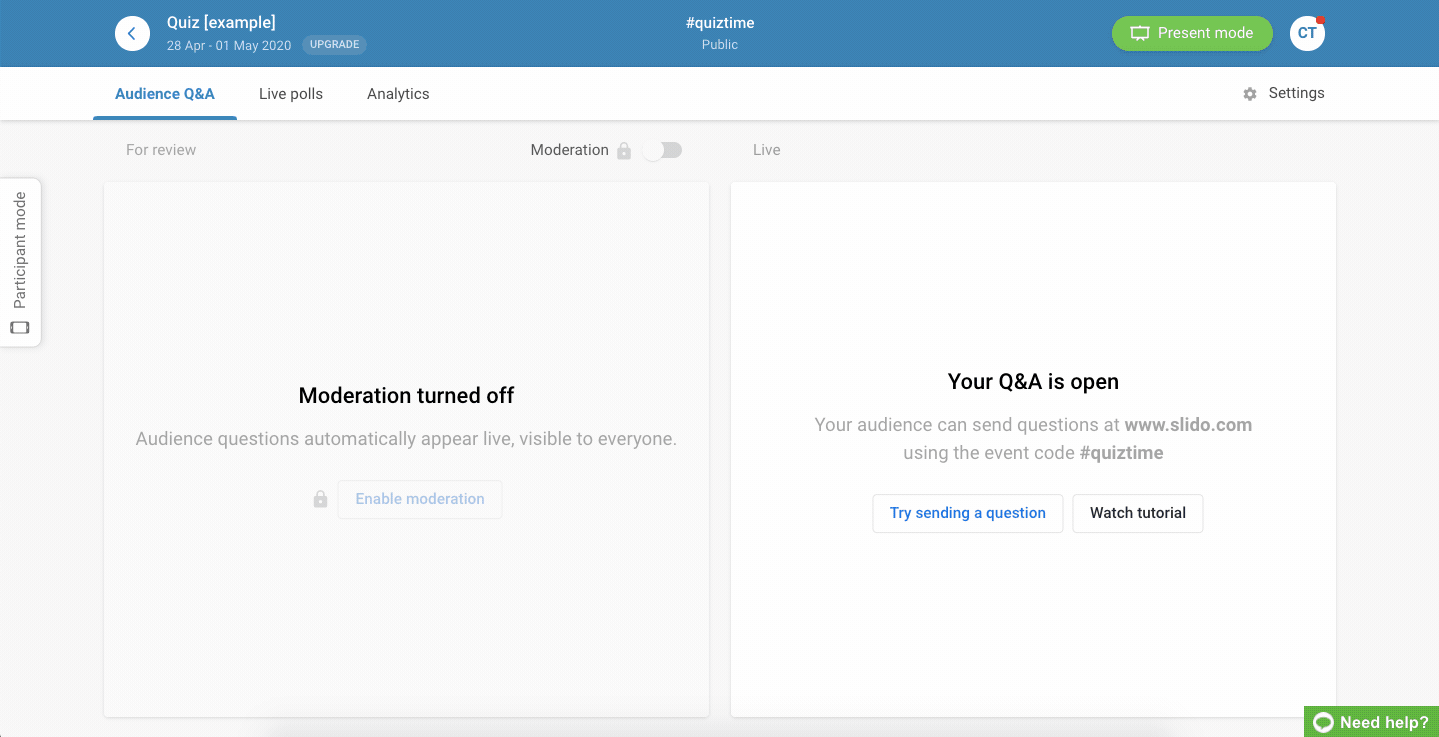 💡 We recommend keeping your quiz short and sweet, and under 30 questions for it to perform smoothly.

🚀 Quick tip: Add a random question with the magic cube
If you're running out of ideas for your quiz, hover on the next question and click the magic cube icon to add a random one.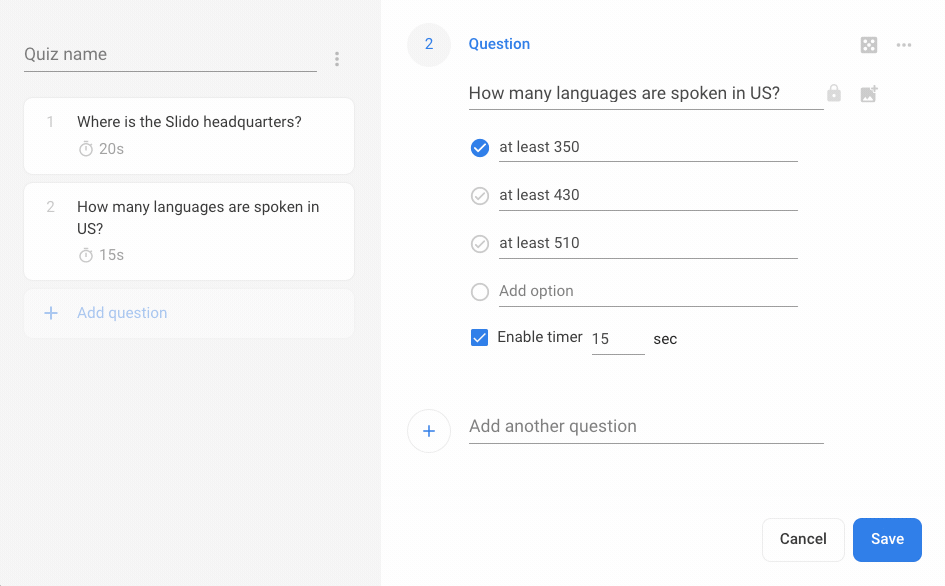 Edit quiz questions
You can make changes to the quiz anytime by clicking the three dots next to the quiz question.
💡 With our paid plans, you can also upload pictures to your quiz questions.
Displaying quiz on a big screen
If you wish to display the quiz on a big screen, you'll need a computer showing Present mode while using a secondary device to navigate through the questions. Here's how to log in to admin on your phone.
🚀
Instead of a secondary device, you can also create and run your quiz solely using the Present mode. Check out
this article
to learn how to do so.
Activate and start the quiz
Once you're all set, click the "play" icon to activate your quiz. Before jumping to the first question, make sure to wait for participants to join at www.slido.com using your #eventcode or via event link.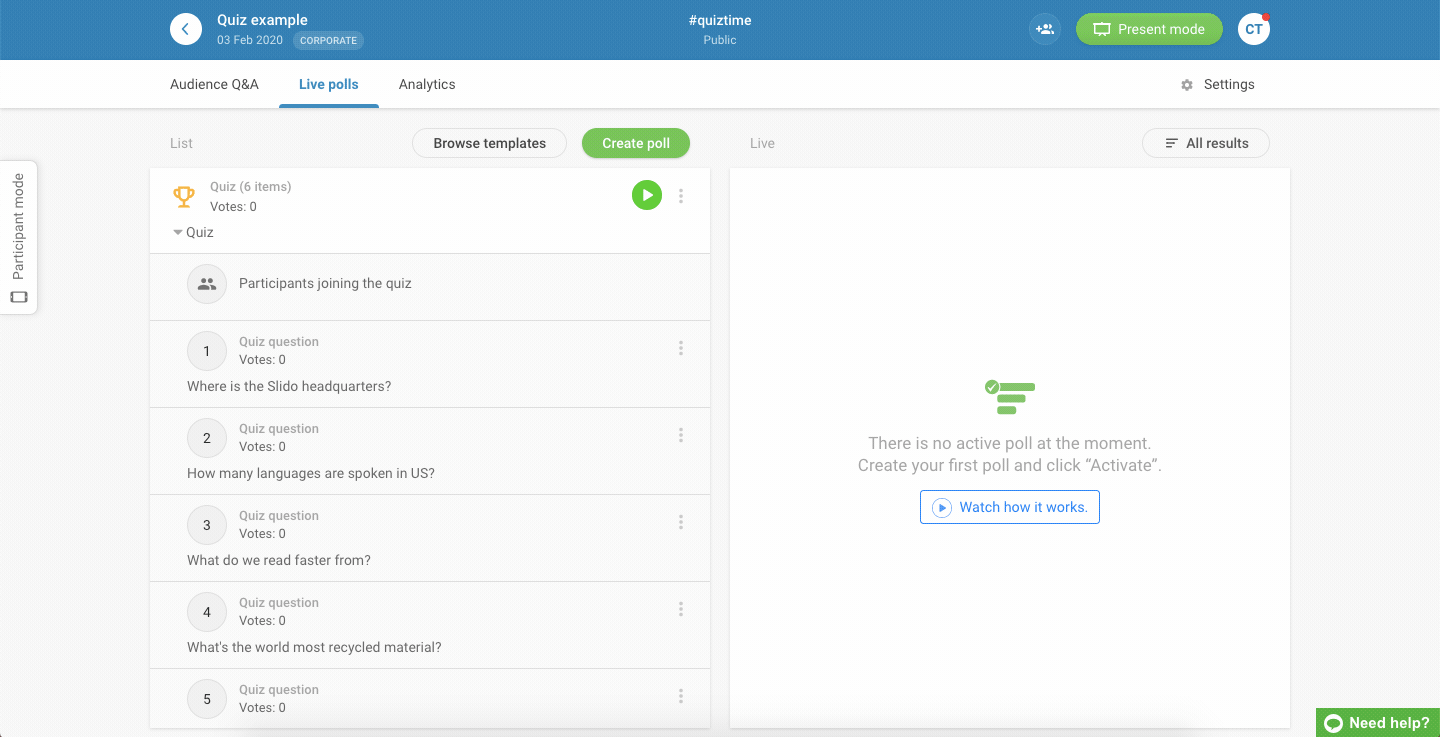 Your participants will be asked to enter their names. You can track this on the right side of your screen.
Once everybody's in, start the quiz by clicking the blue button: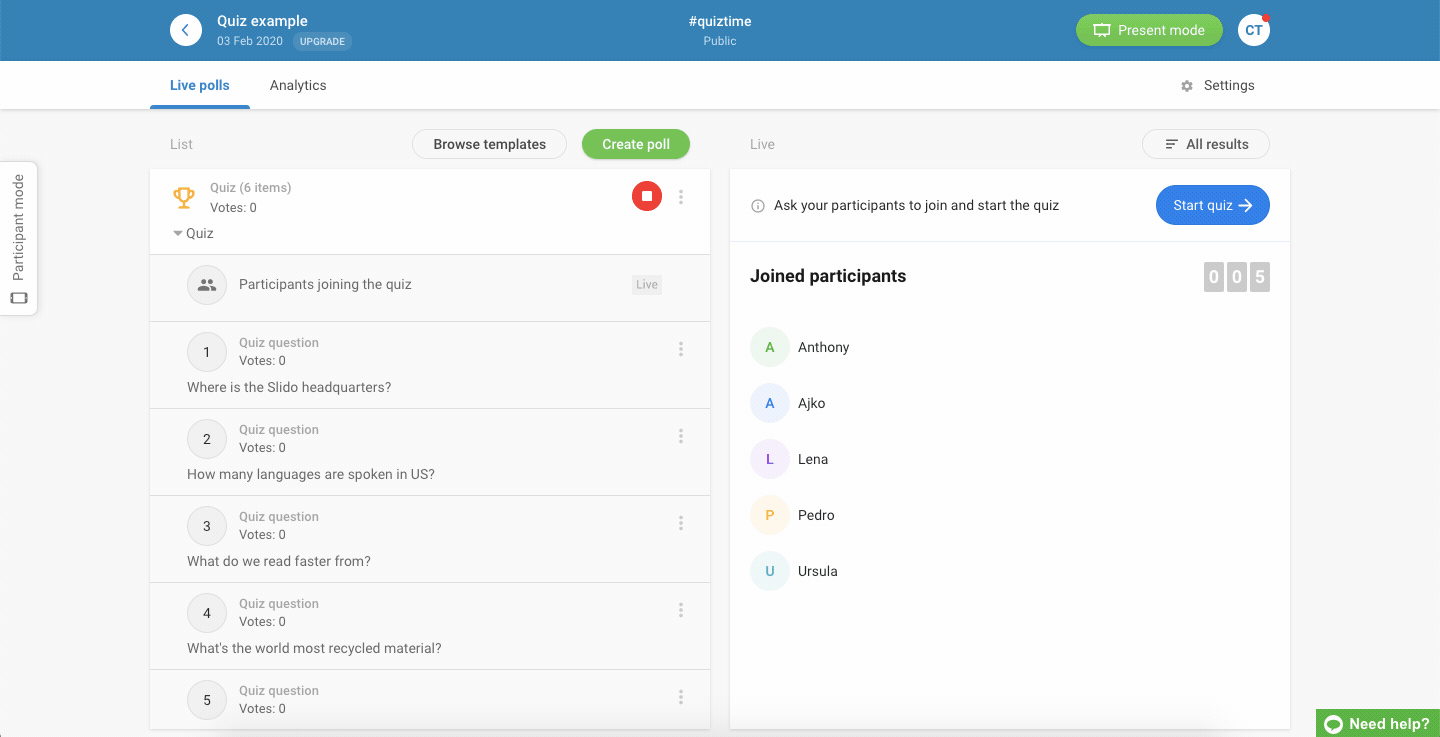 This is how it looks in Present mode:
🚀 You can move to the next phase of your quiz also directly from Present mode. Simply hit your spacebar (or enter) key.

This is how it looks for your participants: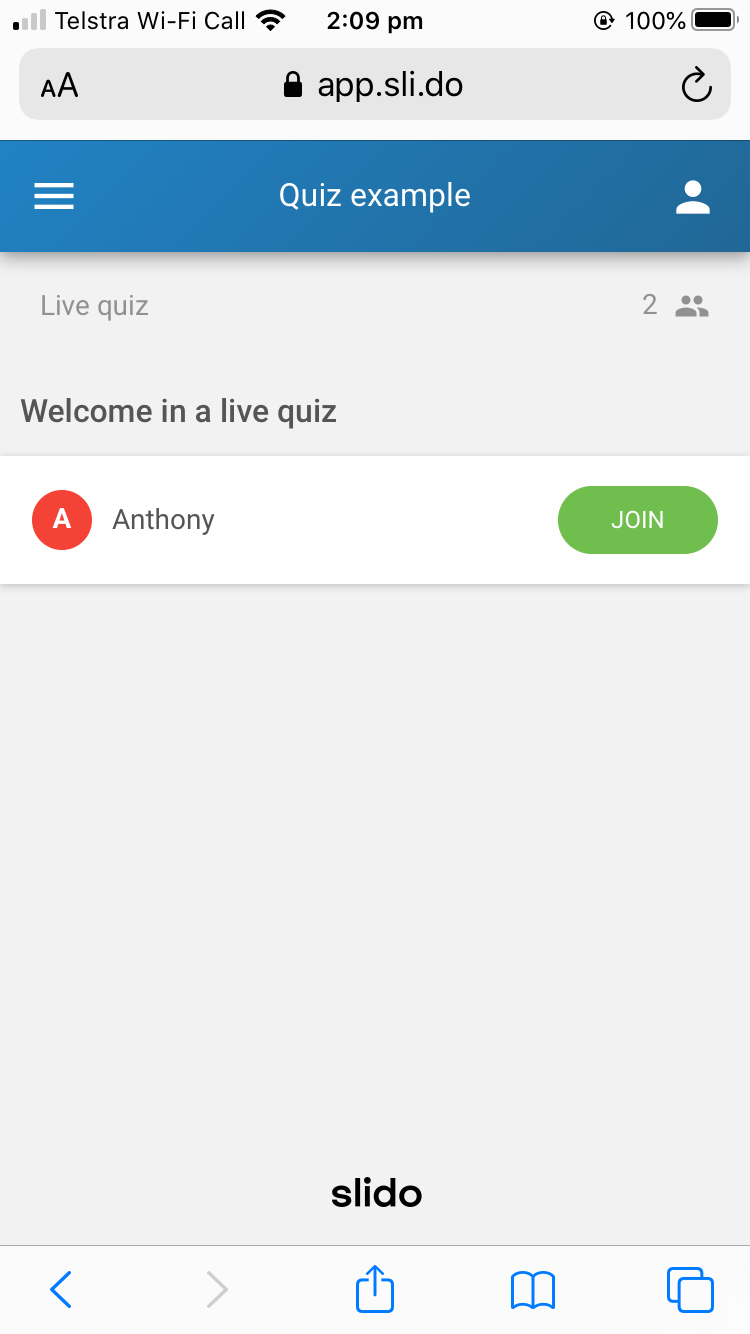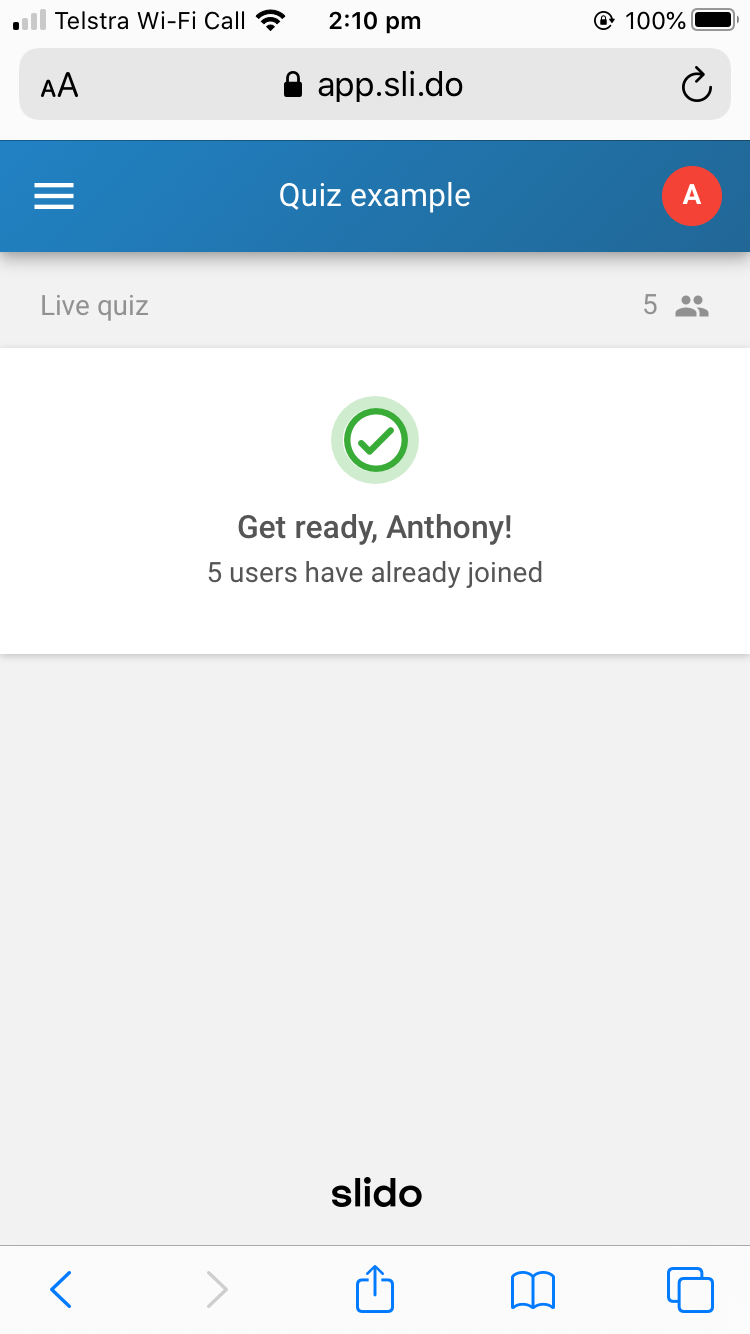 Run the quiz
Keep an eye on the vote counter in the top right corner. Once everybody voted, click the button to display results for the first question. This will automatically lock the voting and prevent any more votes from coming in. Afterwards, reveal the correct answer and move on to the next question.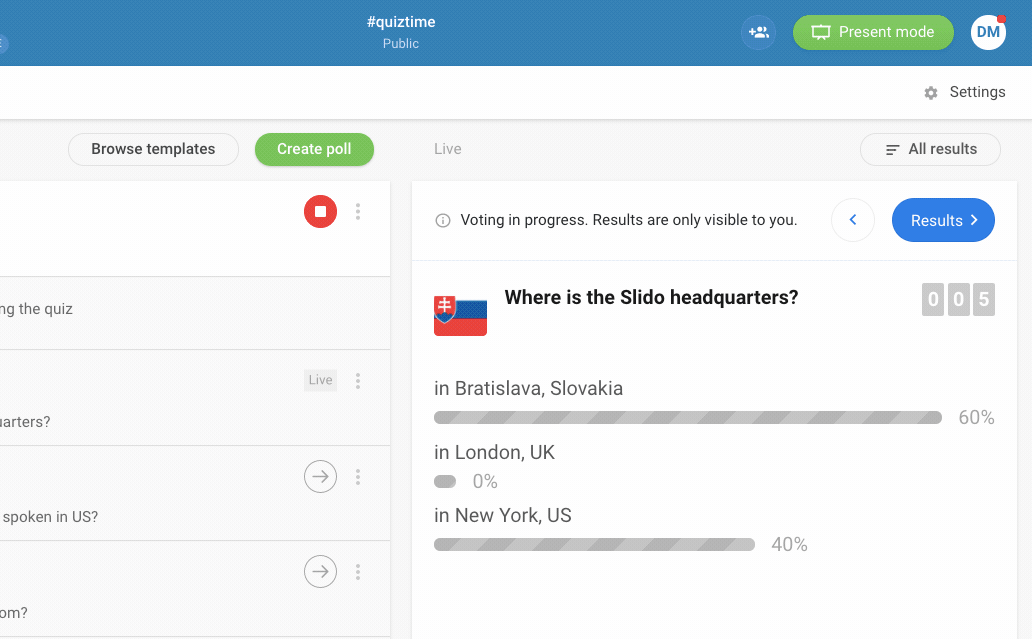 🚀 If you set up the timer, results appear automatically after the time is up.

This is how it looks in Present mode: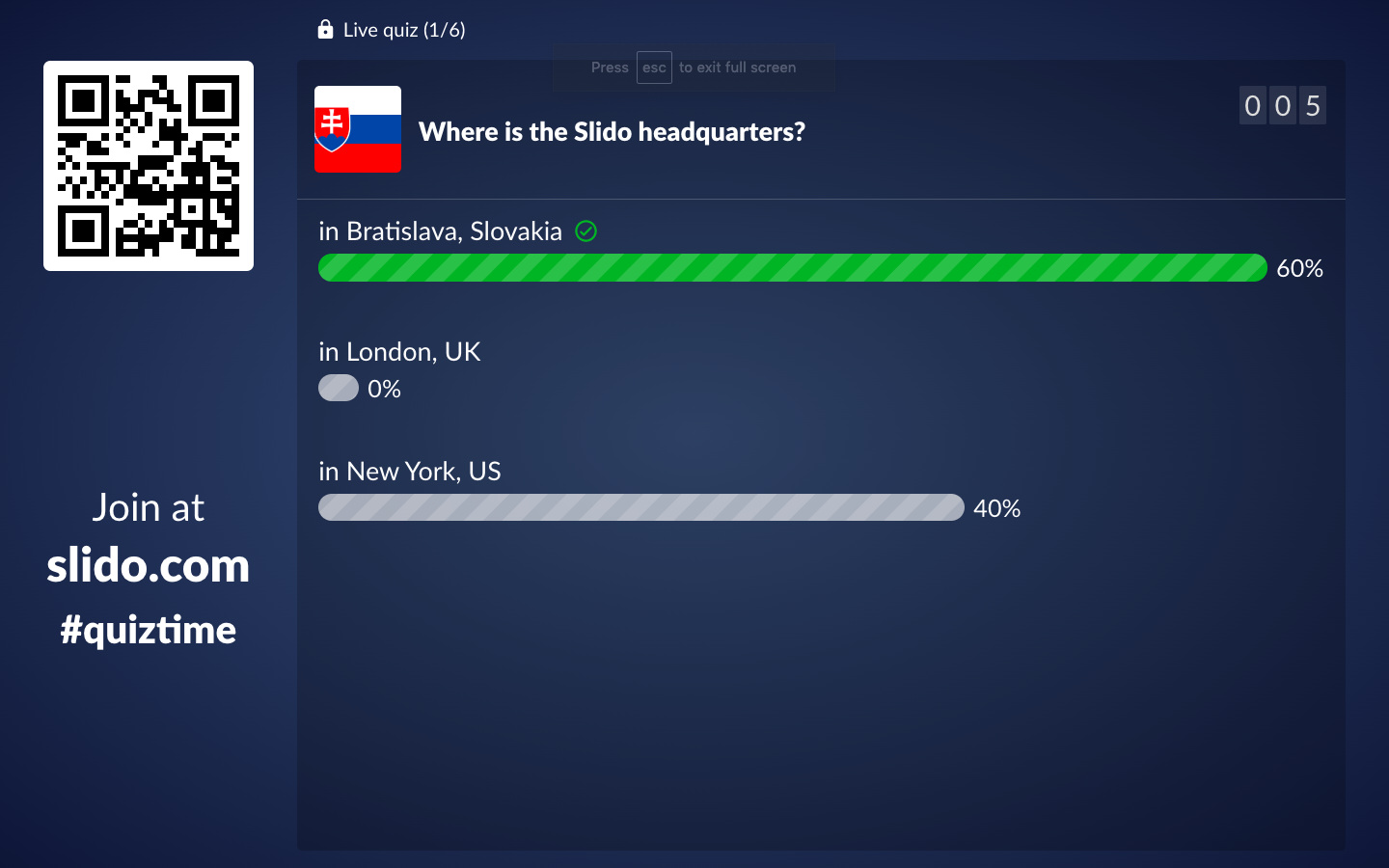 This is how it looks for your participants: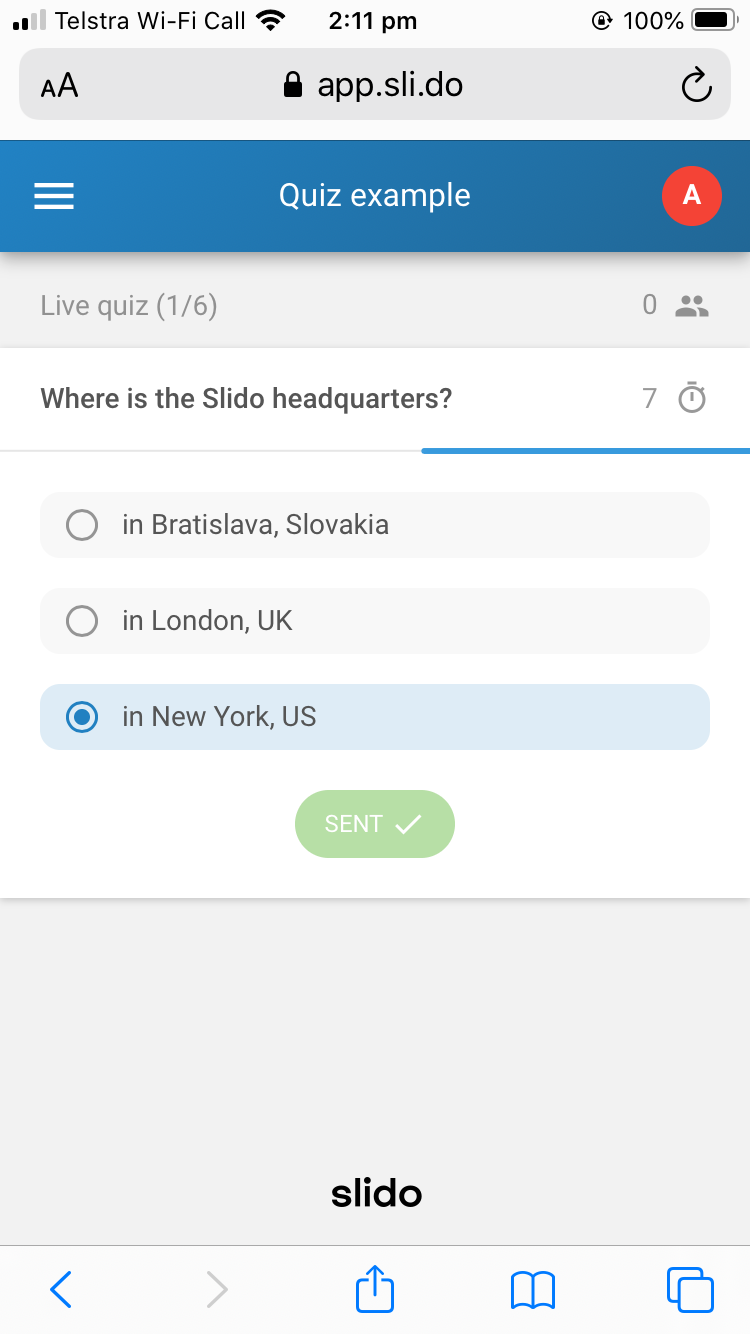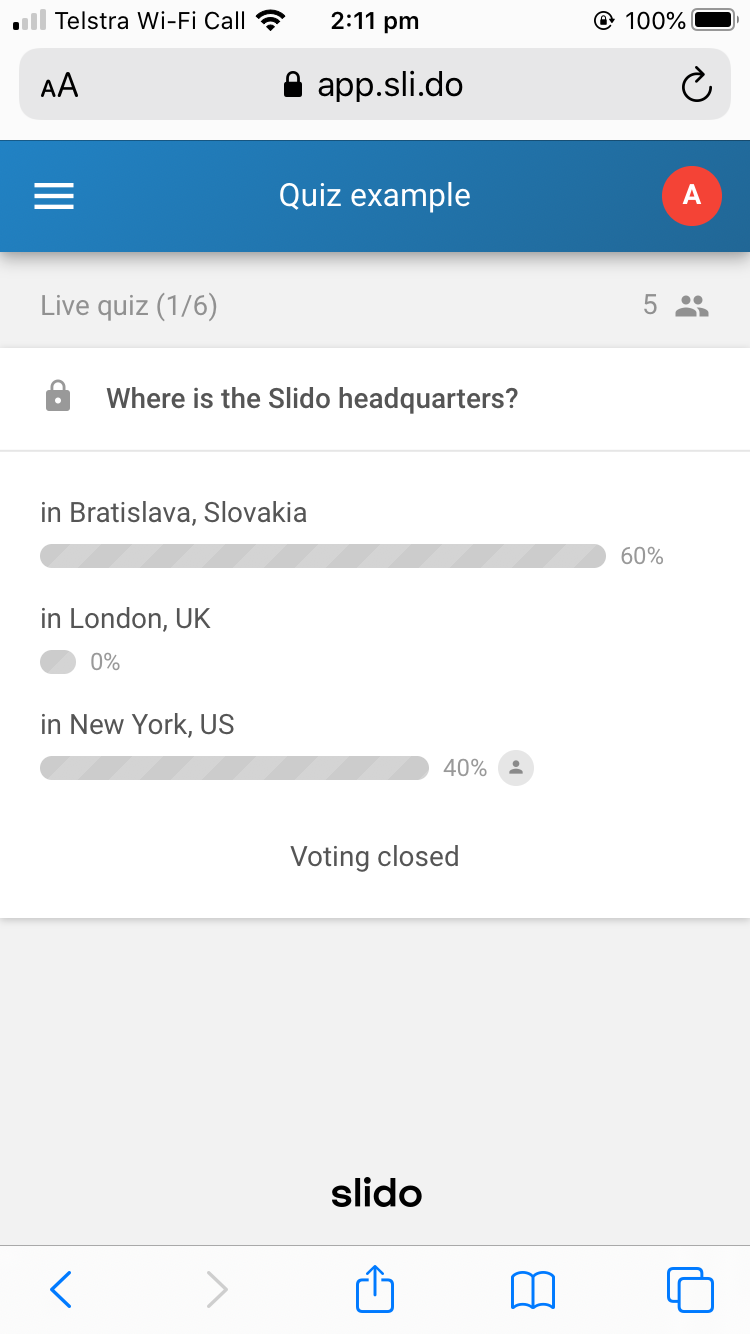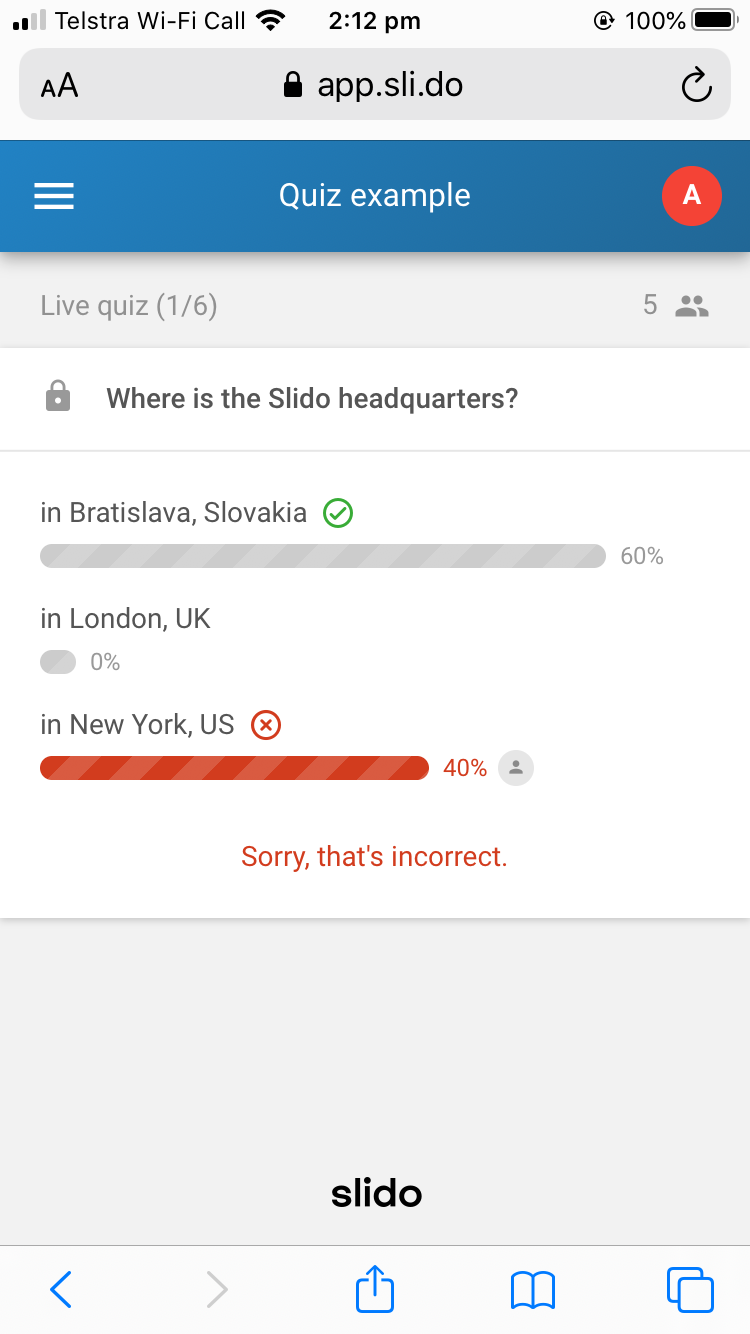 .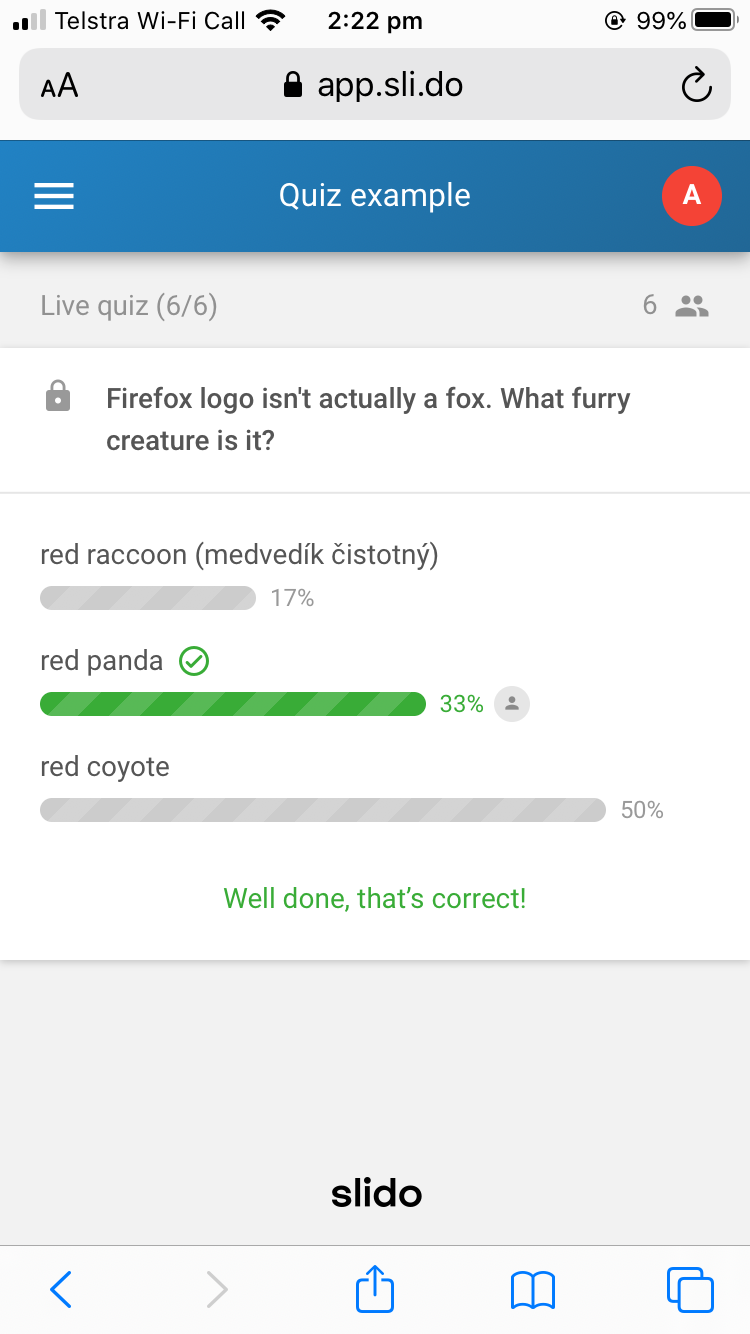 Display leaderboard
The leaderboard in Present mode displays 5 participants with the most correct answers and fastest response time. By default, it's displayed after all the questions were answered:

As an admin, you can track the leaderboard throughout the entire session while also having the freedom to show it to your participants whenever you wish. Just click the three vertical dots next to your active quiz to do it: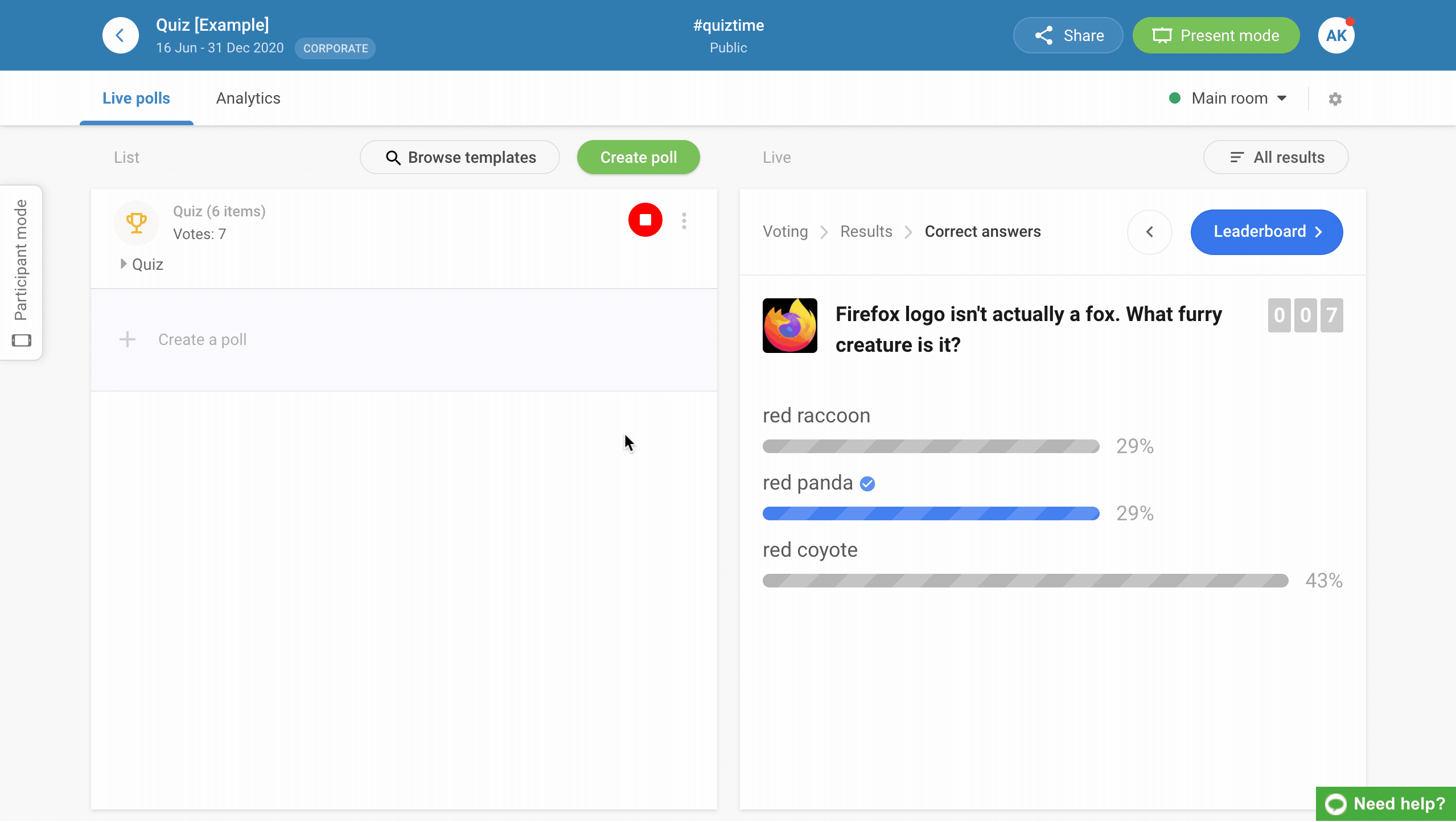 Additionally, you can choose to show the interim leaderboard after a round of questions: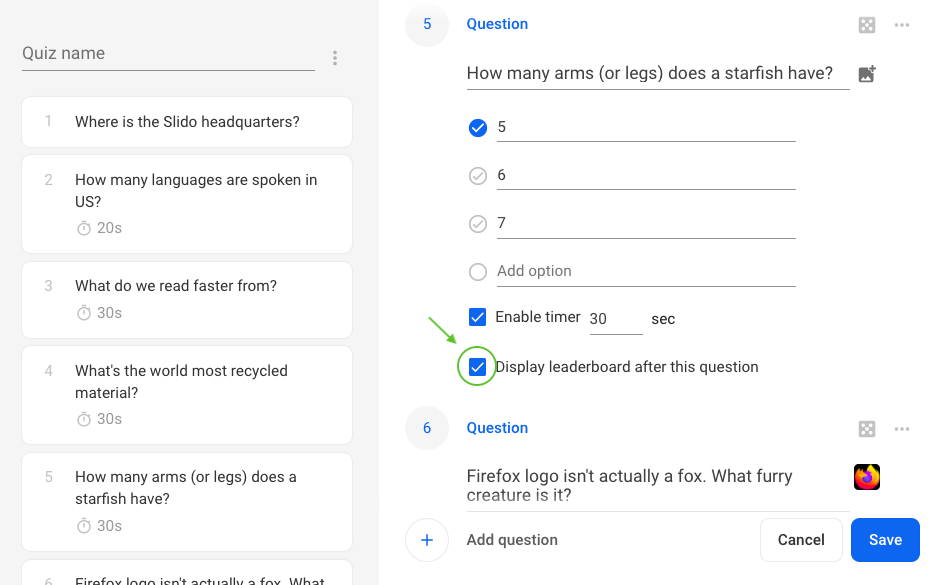 💡 Quick tip: View the score of all participants
As an admin, you can access the score of all participants anytime. Just click the three vertical dots next to your quiz and select Leaderboard: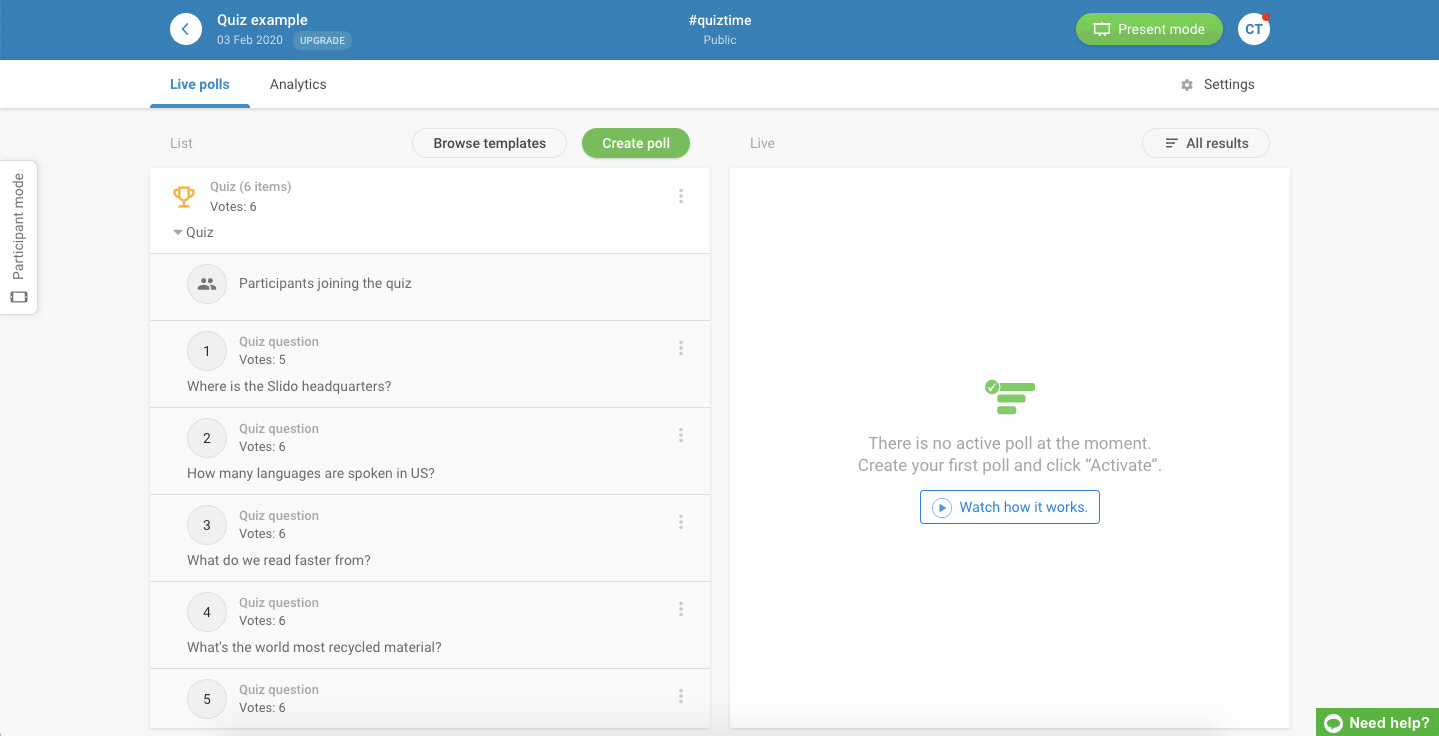 This is how leaderboard looks in Present mode: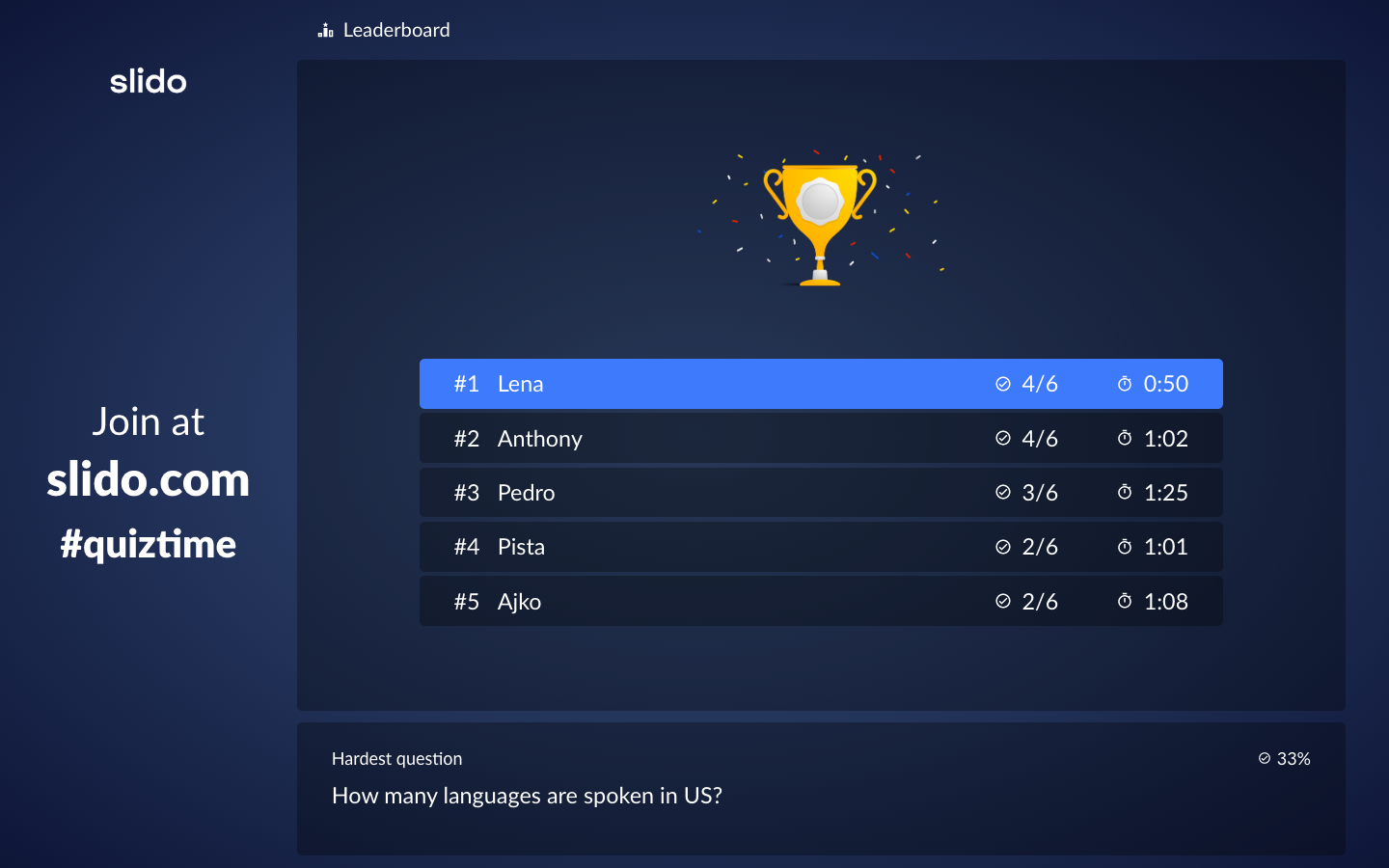 This is how your participants will see it: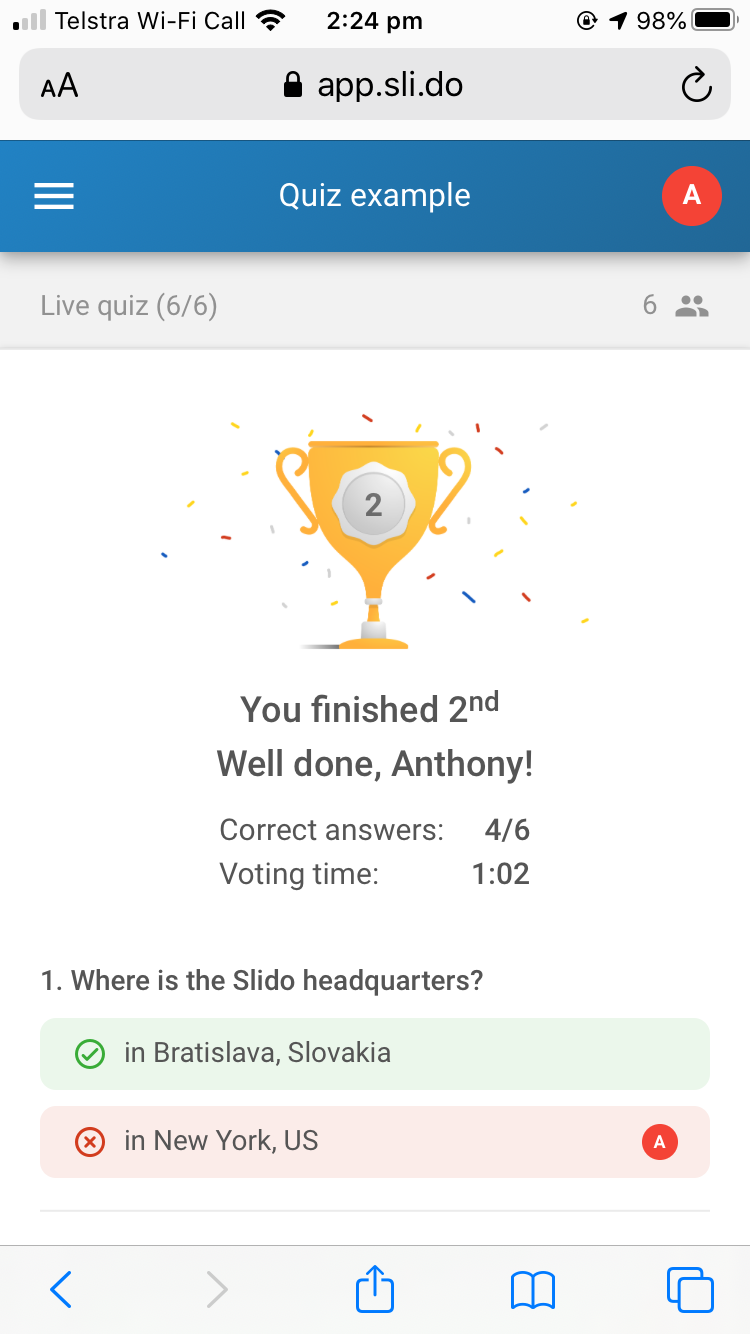 Useful tips
Tip 1: Add a description
If you'd like to add more context to your quiz question, hover on it, click the three vertical dots on the right, and select "Add description".

Tip 2: Allow participants to select multiple correct answers
You can mark multiple correct answers for your question to make it more challenging. To get a point, your participants have to select all of them.

Tip 3: Delete testing results
It's a good practice to test everything before the live event. Once you're done with testing, you can simply click the three dots next to your quiz and select "Reset results". You'll start from zero votes and participants again.

Tip 4: Disable Audience Q&A and Ideas
If you're only running a quiz or other polls, you can get rid of the Questions and Ideas tab in both Admin and Participant mode. Go to Settings - Features - Questions to turn them off. This visual tutorial will help if needed.

Tip 5: Run the quiz throughout a presentation
Once you reveal the correct answer to one question, you can wait as long as you'd like before activating the next one and then reveal the leaderboard at the end. Here's more about running Slido with a presentation.

Tip 6: View the complete leaderboard
You can access the full leaderboard anytime during the quiz or after it's finished to see the final results. Click the three dots and leaderboard to do so.
Let us know what you think about the Quiz feature
Please let us know what you think about Slido quizzes or what you're missing by clicking the button below and filling out the feedback form. We read every single one!
---
Curious about more?