The Multiple rooms feature allows you to use Slido during concurrent sessions at meetings or events. You can manage audience questions and run polls for each room separately.
To help you administer the event with multiple tracks, invite your co-workers via Share Access feature.
In this article:
Create rooms
Whether you're running an event with parallel tracks, or multiple training sessions during the day, setting up multiple rooms will help you divide your content.

To create a new room:
Go to Settings
Select Multiple rooms
Create a new room and change its name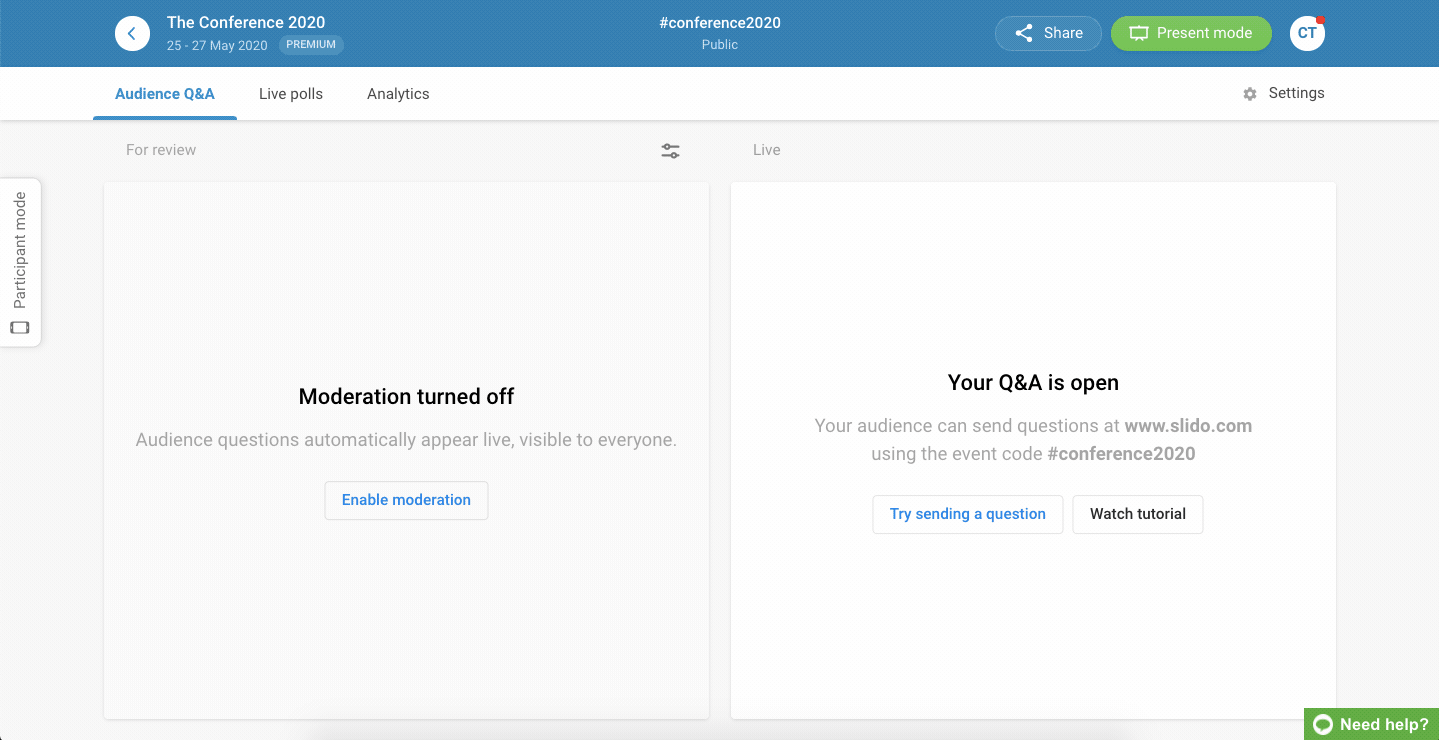 💡 Click the color next to your room name to align it with the event design or your preference.
In case you need to delete a room, simply click on the bin icon next to it. Removing a room will also delete any data collected in it. To make sure you won't lose anything, we recommend deactivating the room instead. The data will stay safe but the room will not be visible to your audience.

🚀 Pro tip: Duplicate polls across rooms in bulk
If you plan to use the same polls in multiple rooms, you can duplicate them in bulk. First, create all the rooms. Then, create the polls you will use in one of these rooms. Then:
Go to your polls and hover over one of the polls you want to duplicate
Check the box in the poll icon to select the poll
Repeat for all the polls you want to duplicate
Click the duplicate icon on the top and then select the rooms you want the polls to be duplicated to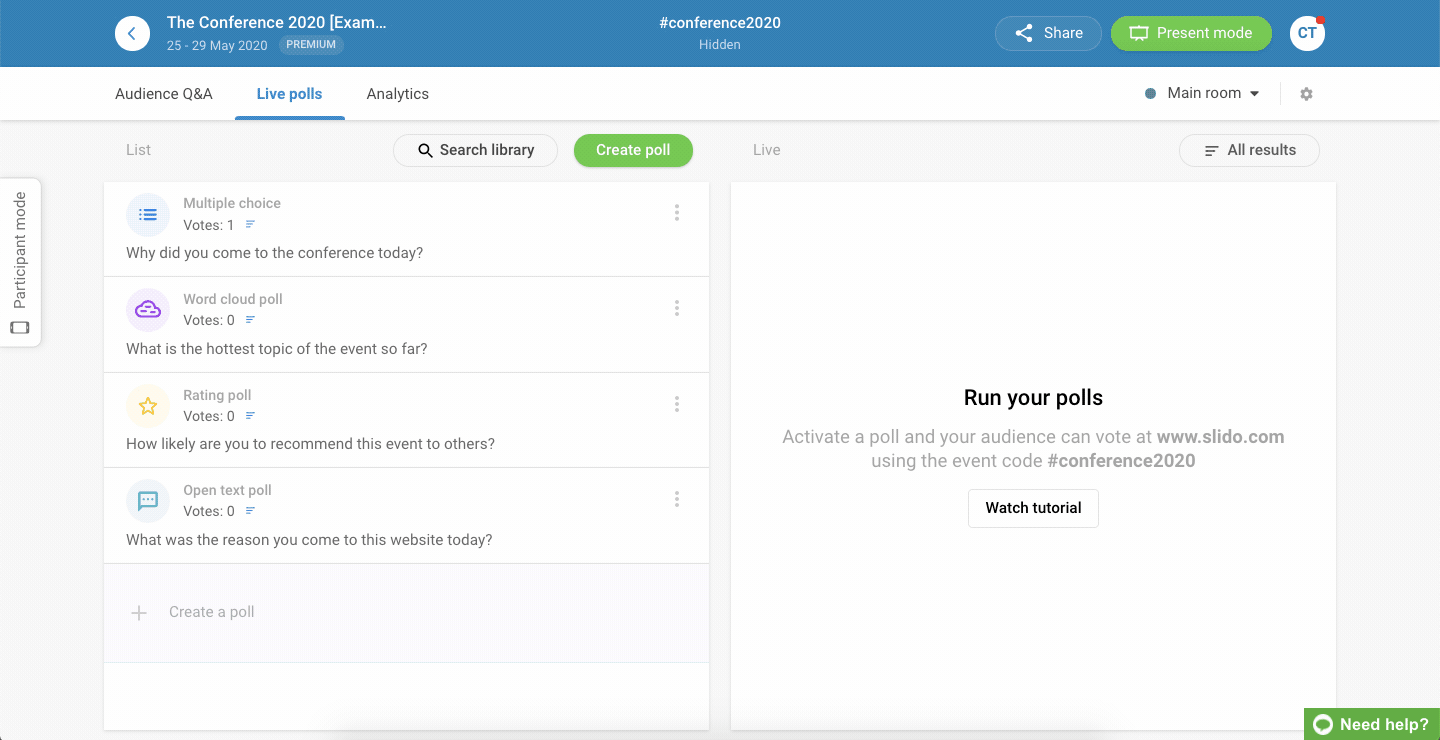 Activate and deactivate rooms
To limit the number of rooms your participants will need to choose from, you can activate or deactivate the rooms anytime during your event. For example, there's no need to activate the afternoon sessions in the morning.
To activate or deactivate the rooms, use the toggle button in Settings and click Save.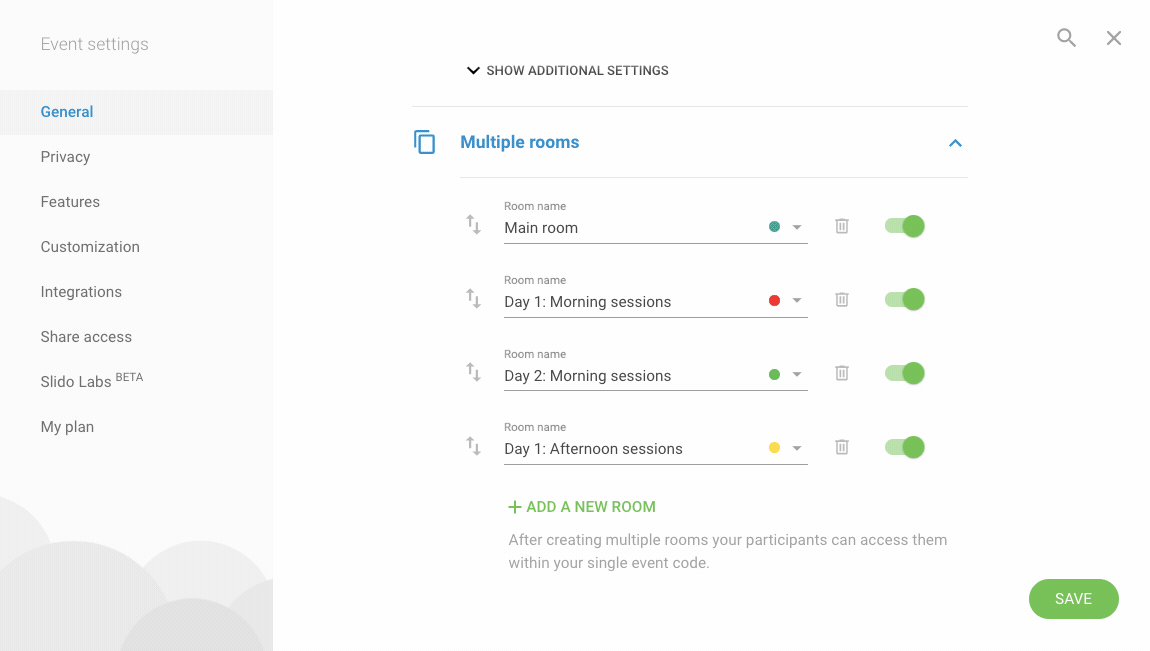 ⭐ You can drag and drop your rooms to re-order them.
Manage rooms
Each room has its own Questions, Ideas, Polls, and Analytics tabs. You can choose which room you want to set up or manage in the upper right corner of your Admin dashboard.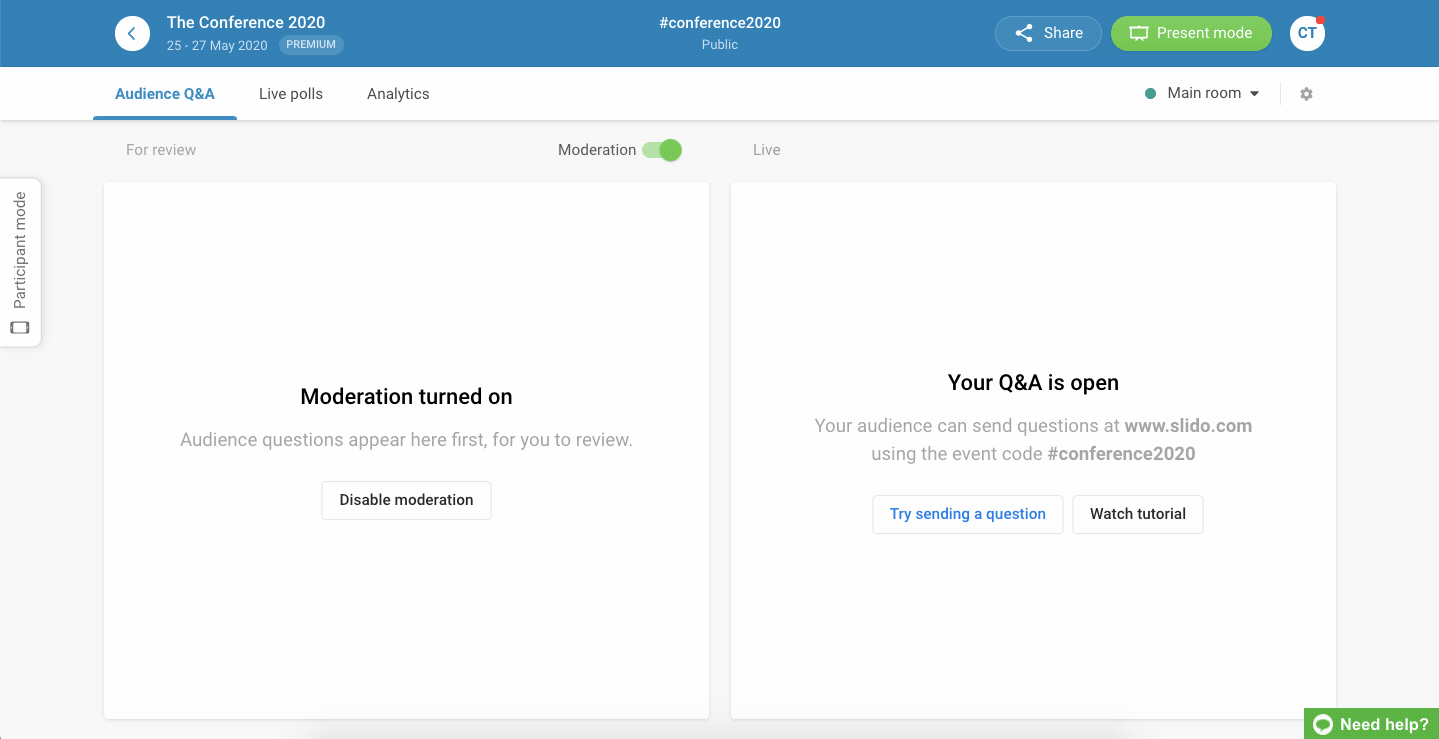 Tech setup and testing
Here's what we recommend for events with multiple rooms:
In the (large) plenary rooms, we recommend having one computer dedicated solely for displaying the Slido Present mode and another one for managing Slido from the Admin view.

In smaller breakout rooms, one computer is usually enough for presentations and for the Present mode. You can install the Slido Switcher, which will allow you to switch seamlessly between the slides and Slido Present mode.

For remote events, you can share Slido Present mode during the live stream and use Switcher or keyboard shortcuts to switch between Slido and the presentation. To manage the room, you can use a secondary device. For more tips about how to run a remote event, read this article.

Choose the correct room in Present mode
To open the Present mode, click the green button in your admin and select your preferred option. For remote meetings, we recommend "Present on another screen".
Once you're in Present mode:
Navigate to the upper right corner
Click the room name and select the correct room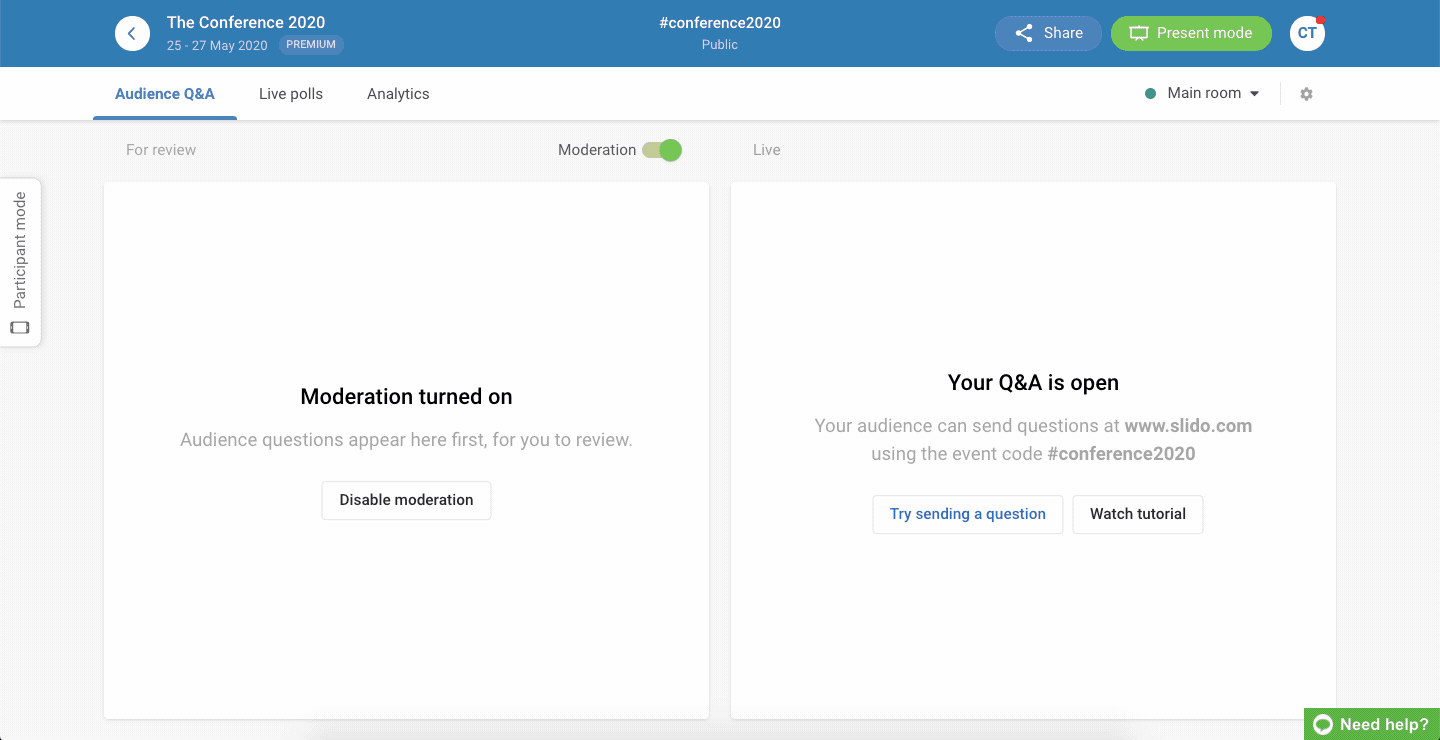 🚀 If you're using Slido Switcher, you also need to select the specific room in Switcher.
Test your event
To make sure everything goes smoothly during your event, we recommend testing your polls, questions, and ideas beforehand. Start by activating a poll and open Participant mode on the left-hand side of your Admin mode:
Click the Participant mode button
Vote in an active poll
Send a test question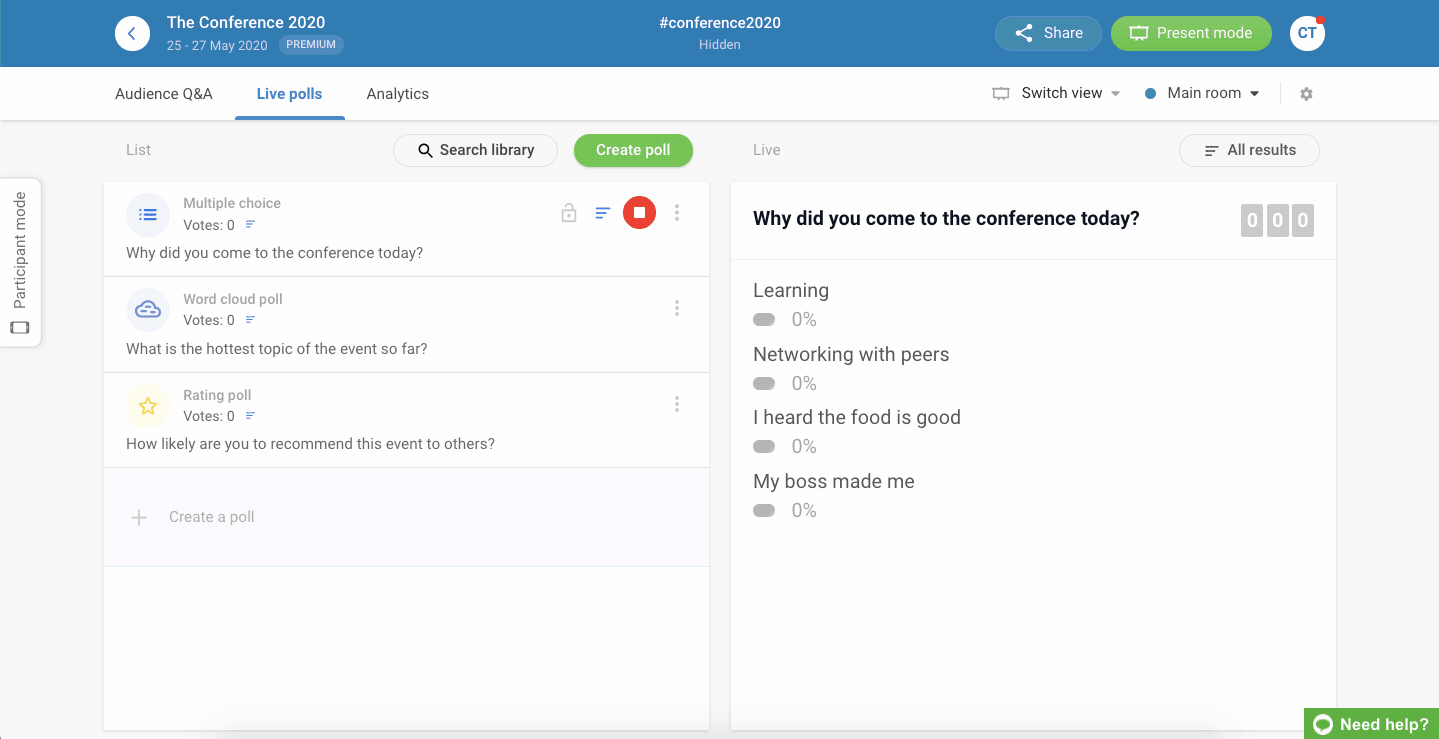 💡 If you bought a one-time event, don't worry! Testing in advance with up to 10 people will not affect your 7 day event limit. Please note that your event code is only valid during the dates of your event for your audience to join, therefore it might show as "not active" while you're testing.
You can collect questions and poll responses before your event starts. To do so, share the QR code or event link with your participants via your preferred platform. Participants in the room can scan the QR code with their phone camera, or type in the event code by going to slido.com. Once joined, your attendees will be asked to select a room they would like to participate in.
To switch to a different room, they just need to select the desired one from the drop-down menu on the top.
Reset poll results and delete testing questions
To start from zero, you can reset your poll results and delete your testing questions. The only thing which will remain in Analytics is the number of joined participants, that represents the number of people who tested the event.
To delete testing questions:
In the Audience Q&A tab, go to the Live section
Hover on the circle in front of the questions you want to delete and check the box
Click the bin icon to delete selected questions
To reset polls:
In Live Polls tab, click the three dots next to your poll
Select reset poll results and confirm your choice
Here's the visual tutorial for both options: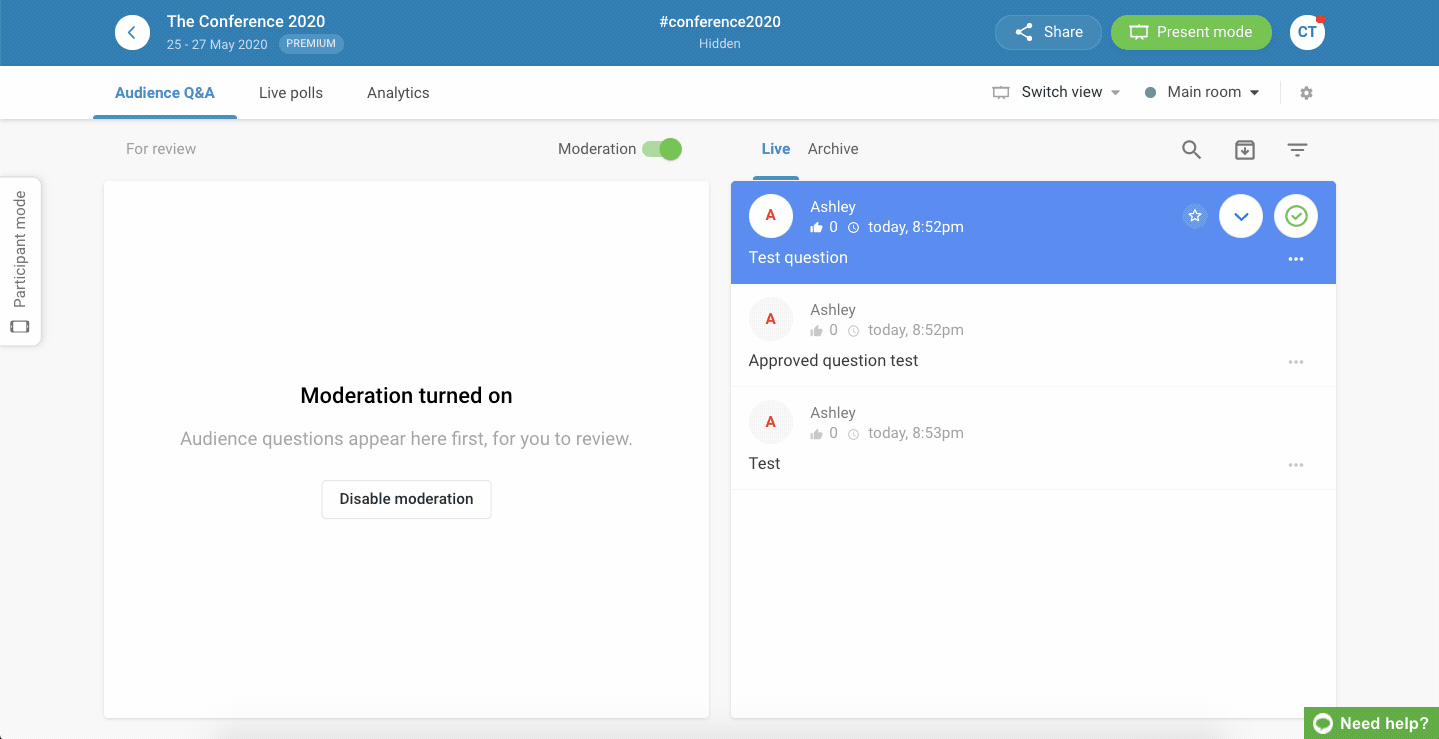 Get the permanent link for a specific room
If needed, you can get a unique permanent link for both the Present and Participant modes in each of your rooms.

Present mode permanent link
To get the permanent link of the Present mode in a specific room, simply:
Choose the desired room
Hover over Present mode and select Present in a new tab
Copy the Present mode link

Participant mode permanent link
Getting a permanent link of the Participant mode in a specific room is useful if you want your audience to join your event using a link and you want them to immediately join the desired room.
To get the permanent link of the Participant mode for a specific room, please first follow the steps above for getting a Present mode link. This is important to do because each room has its own unique ID (starting with ?section=) which has to be obtained first. Once you open the Present mode in a new tab, simply:
Hover over Share, select Share link with participants and paste the link
Open the Present mode of your desired room and copy everything from ?section= onwards
Paste it back at the end of the link from Step 1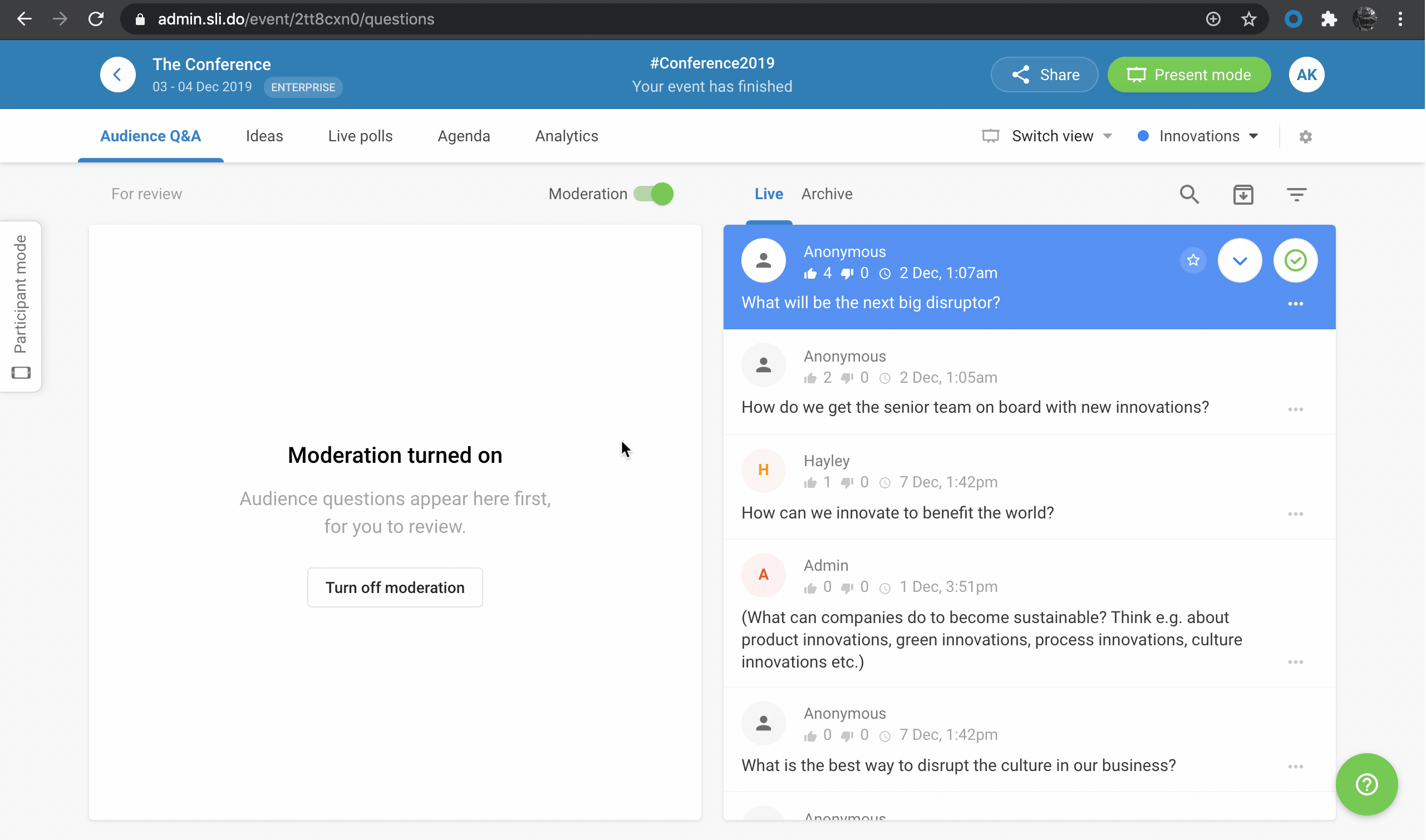 Useful tips:

Tip 1: Disable rooms if you don't need them
To turn off the tracks that are not yet live or that have ended, you can disable them in the Settings. This is especially useful when you have a lot of rooms and want to make the selection easier for your participants.

Tip 2: Invite guests to help you administrate the rooms
Managing multiple rooms at the same time might be tricky. You can invite coworkers by adding them as a guest to your event via our Share Access feature.

Tip 3: Event Settings apply to all rooms
You and your co-admins can manage each room and its content separately, however, it is not possible to change event settings per room. For example, if you turn on moderation in one room, it will be on in all rooms. The same will apply to colors, number of displayed questions in Present mode, character limits, and others.

Tip 4: Embed a specific room to your website
You can embed both Present mode and Participant mode for a particular room into your website. If you're running a streamed event with multiple tracks, there's no need for your participants to change the rooms every time they change tracks. They'll be sent directly to the one you want them to be. Here's a tutorial on how to embed a specific room to your website.

Tip 5: Export your data after the event
You can export all questions and poll results for the whole event or per room. Select the format that works best for you, be it a comprehensive online infographic, Excel file, or pdf. Learn more about the exports in the Export your data article.
Curious about more?