When needed, you can secure your event by adjusting its privacy settings. Basic events are visible in the search results and can be accessed by typing in the event code.
💡 The availability of these settings varies by plan. Please check the respective part of the article to see which setting is available with what license. Our free Basic plan does not offer any of the mentioned options.

To prevent anyone accessing your event you can choose from the following options in Privacy settings:

To change the Privacy settings of your event, follow these simple steps:
Go to Settings
Select "Privacy" on the left
Click the toggle to turn on your option
Toggling on "Require authentication" expands additional options for a name, email and Google SSO or SAML SSO settings:
💡 It's possible to combine multiple privacy settings.

Hide your event from search
💡 Available with all our paid plans.
You can hide your event code from the search suggestions. Only those participants who have the exact code will be able to access the event during the dates of the Slido event.
You can test the functionality yourself in Participant mode directly in your admin. Click the button on the left-hand side, then go to the hamburger menu and select "switch event". When typing your event code, the system won't suggest any upcoming events: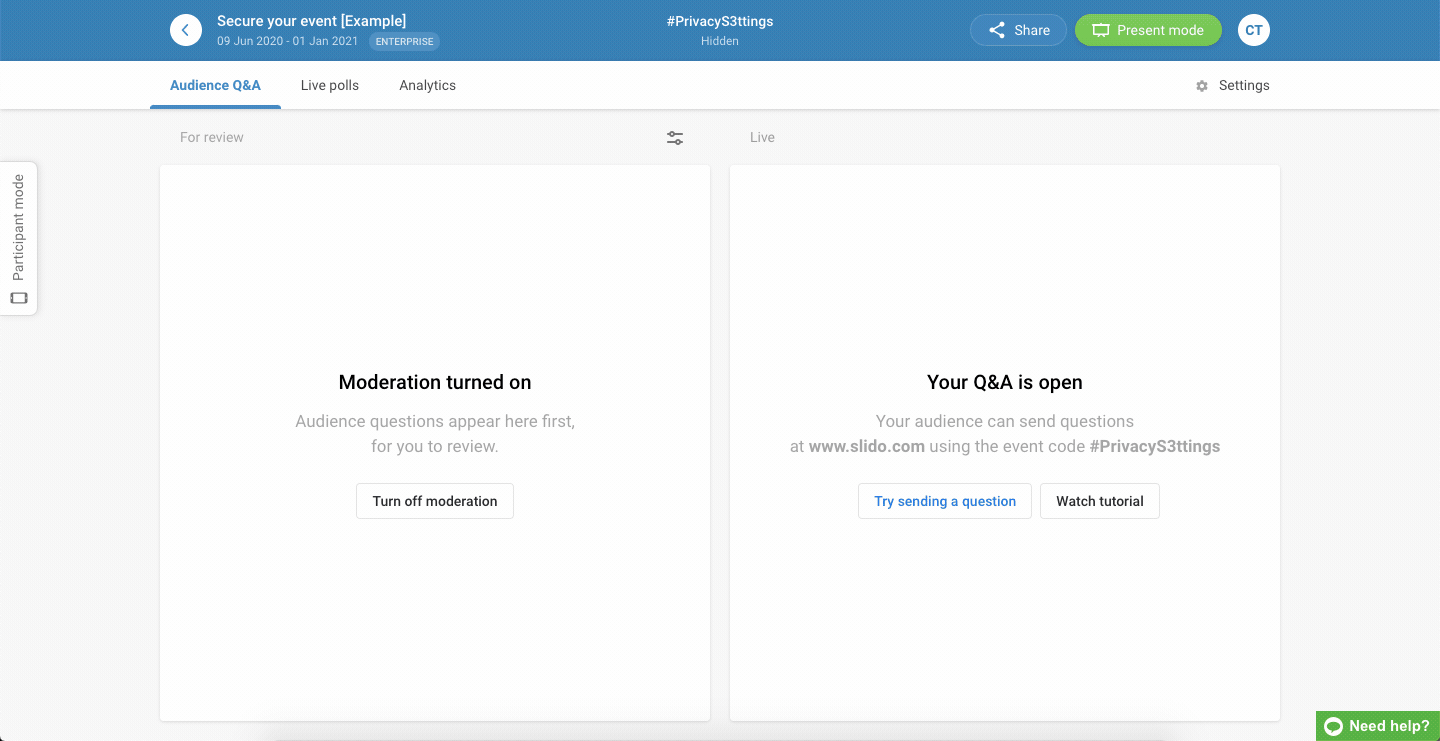 💡 The event code is active only during the dates you set up for your event. To help you with testing, it becomes available 1 day before your event starts.
🚀 Quick tip:
For an additional level of security, use abbreviations or a combination of numbers and letters for your event code. Visit the link to get more ideas about event code customization.
Secure your event with a passcode
💡 Available with all our paid plans.
Only the participants who enter the correct passcode will be able to join your Slido event. Use a passcode that's easy to remember, but includes both letters and numbers to make it harder to guess. Try to avoid replacing O's with zeros as it can cause confusion.
When running a contest, exam or an internal session, you might need to see the names of participants who voted in Polls. By ticking the option "Require name" in Privacy settings, you'll see this information in Polls per user export. The participants, however, still have the option to switch to anonymous while voting.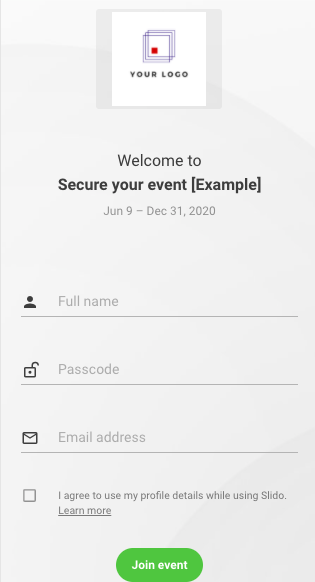 Restrict access to your event
💡 It is not possible to restrict access to your event with our Engage, Internal and Teacher plans but you can still ask participants to enter their email address before joining the event.
This option allows only participants with a certain email to access your event. You can either add a list of email addresses or restrict access for a particular domain.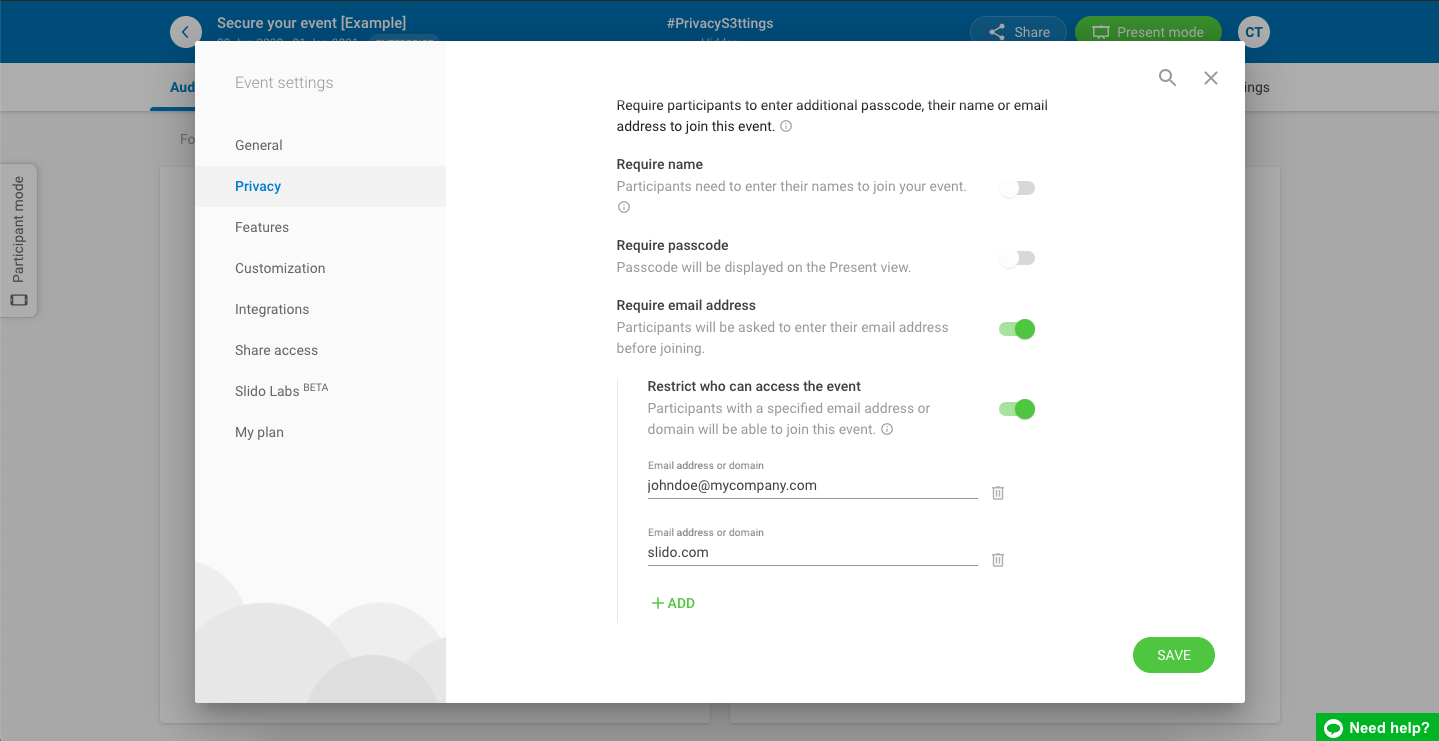 When joining the event via event link, event code, or a QR code, the participants will be required to type in their email. If they're on the list, they will be sent a 4-digit access code to their inbox. If they're not on the list or try to enter via a different domain, the system won't let them in.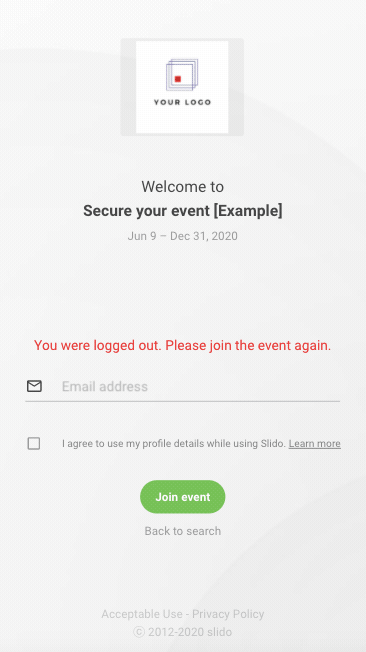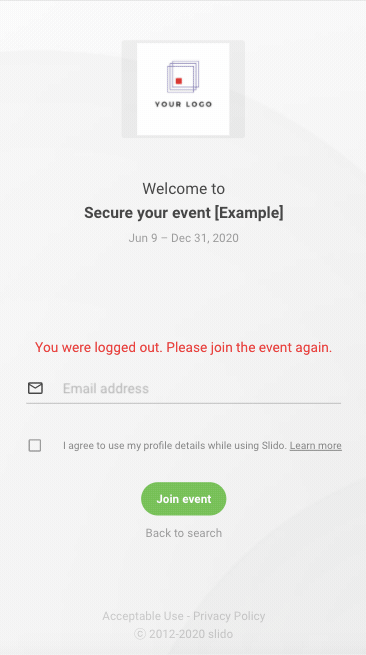 Set up SSO for participants
💡 Available only with our Enterprise and Institution plans.
To protect your data, you can set up privacy settings through single-sign-on authentication for your employees, so only the people from the SSO list can join. Our SSO article tells you how.
Useful information

Tip 1: Testing your Privacy settings
To test various privacy options, you can use the Participant mode on the left side of your Admin. While adding restricted access or setting up SSO might kick you out of the event, you might need to refresh your page or use the event link in an incognito window with others.

For example, if you tried to enter the event and added the passcode to your privacy settings afterwards, the system will remember you and won't ask for the passcode the next time. In that case, just copy your event link under the "share" button in the upper right corner of your Admin, and open the link in incognito mode or in another browser.
Curious about more?