Slido allows you to manage participant questions directly from your Admin on your computer or secondary device. Highlight the questions that are being answered live and send them to the archive by marking them as answered afterwards. With the moderation feature, you can filter out all inappropriate or irrelevant ones.
To change the view from most upvoted questions, you can sort them chronologically or according to the labels if used. There's no limit on how many questions your participants can submit.
💡 Moderation of questions is available in all our paid plans (except Engage).
In this article:

Enable Moderation
You can enable moderation in two simple steps:
Go to Questions
Click on Enable moderation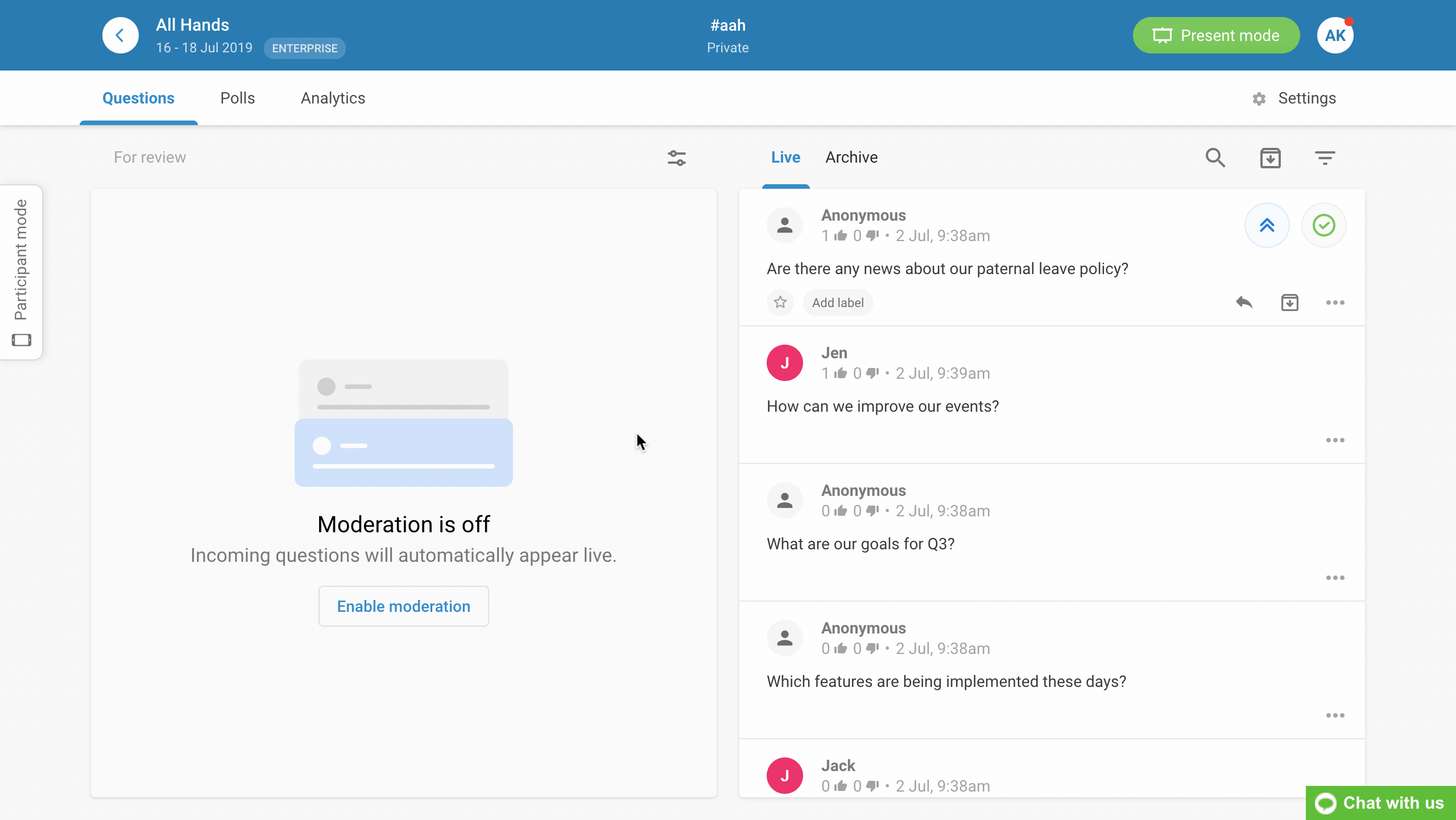 ⭐Incoming questions can be reviewed in the For review section. All approved questions are in the Live section

This is how it works for your participants:
Once a participant submits their question, it appears as Waiting for review. The question can still be edited or withdrawn by the participant.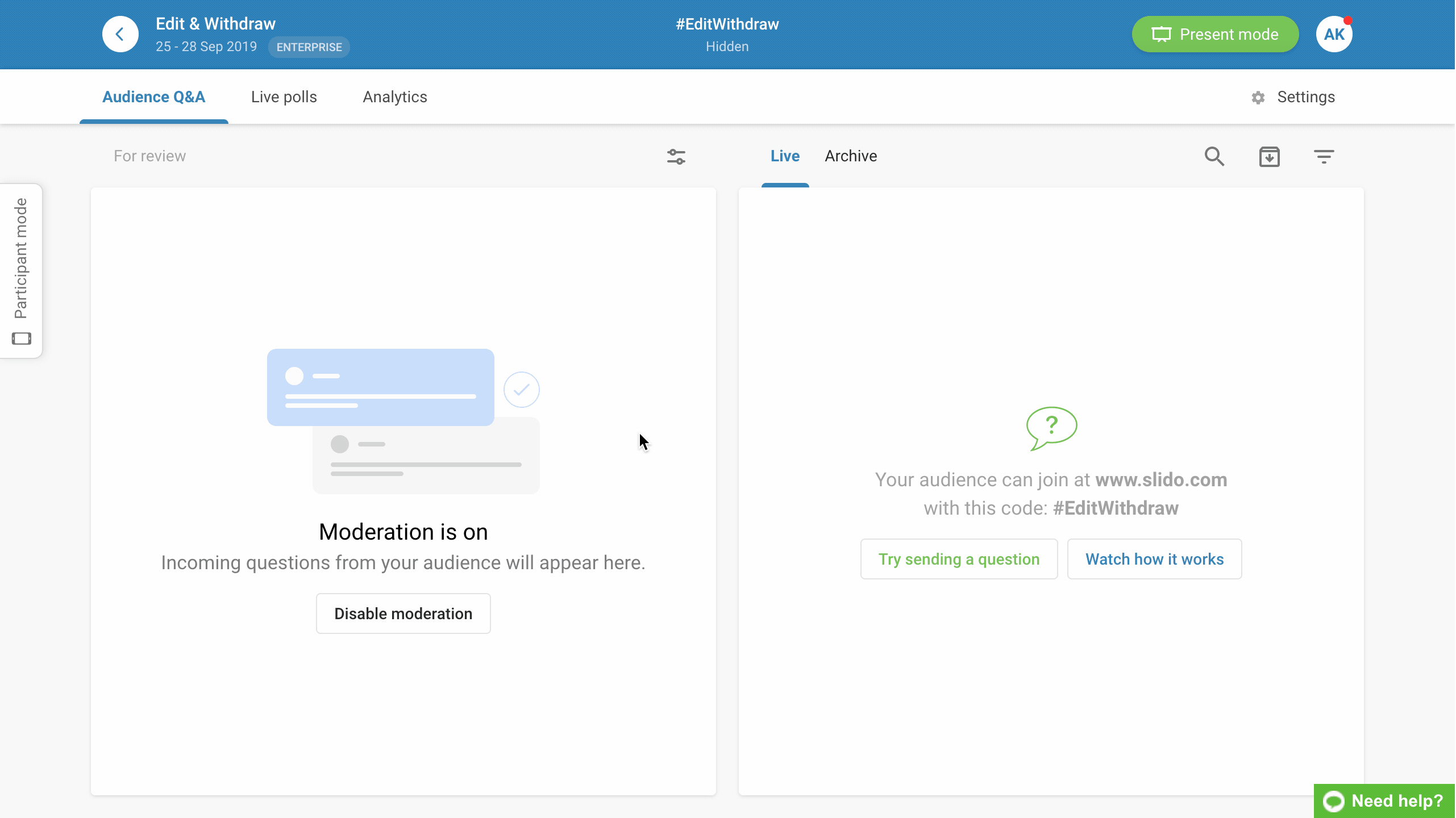 Approve or dismiss incoming questions
You can review the questions submitted by the participants.
Go to Questions
Click the green check button to approve the question
Click the red cross button to dismiss the question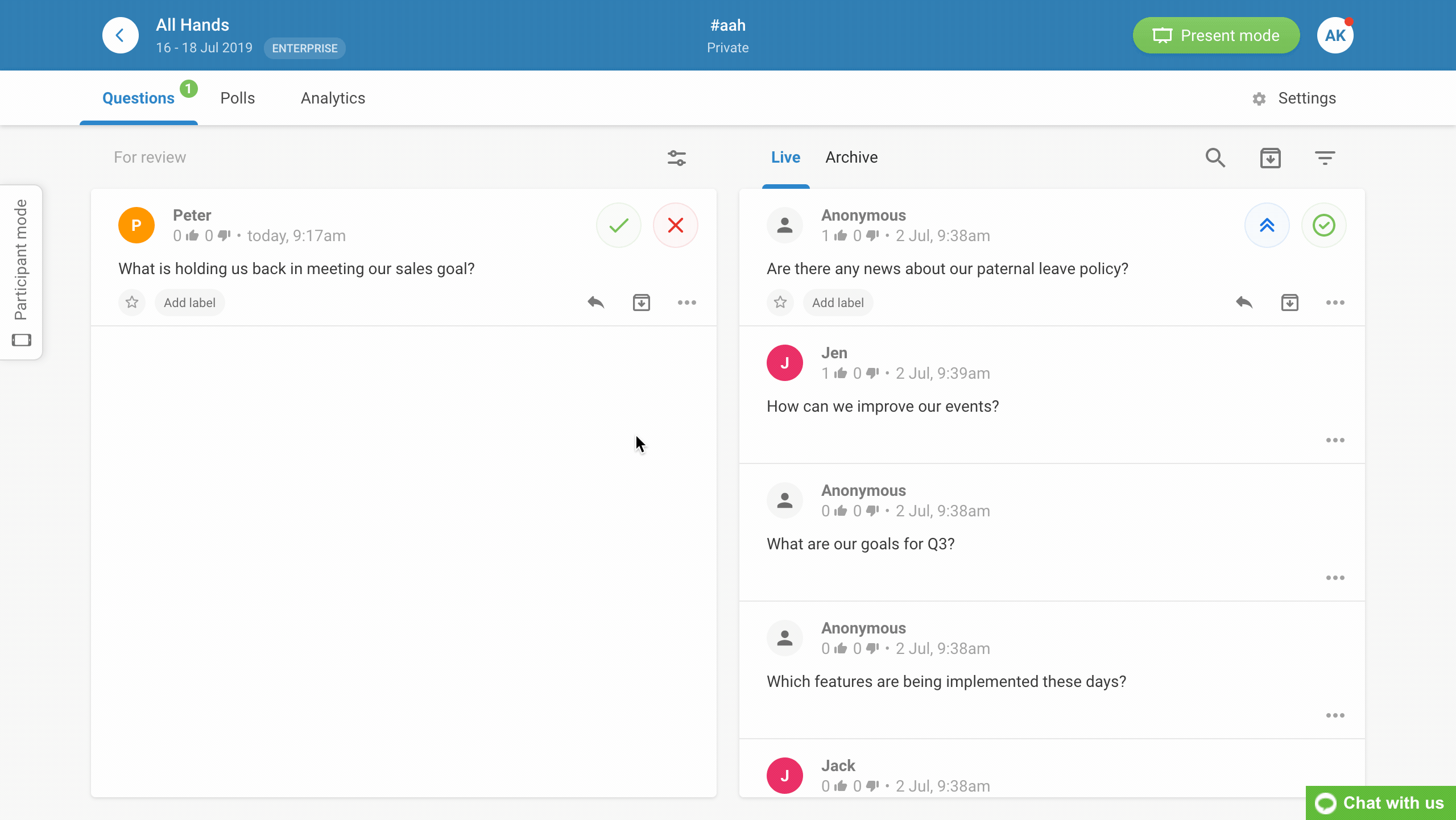 🚀We recommend approving questions as they come so the participants can upvote them right from the start

This is how approved questions work for your participants:
Participants can still withdraw their questions once you approve them. On top of that, they can also request to edit their questions for up to 5 minutes after the approval. If they do so, the edited question will appear back in your admin under "For review" and you can decide whether to make it live again or not.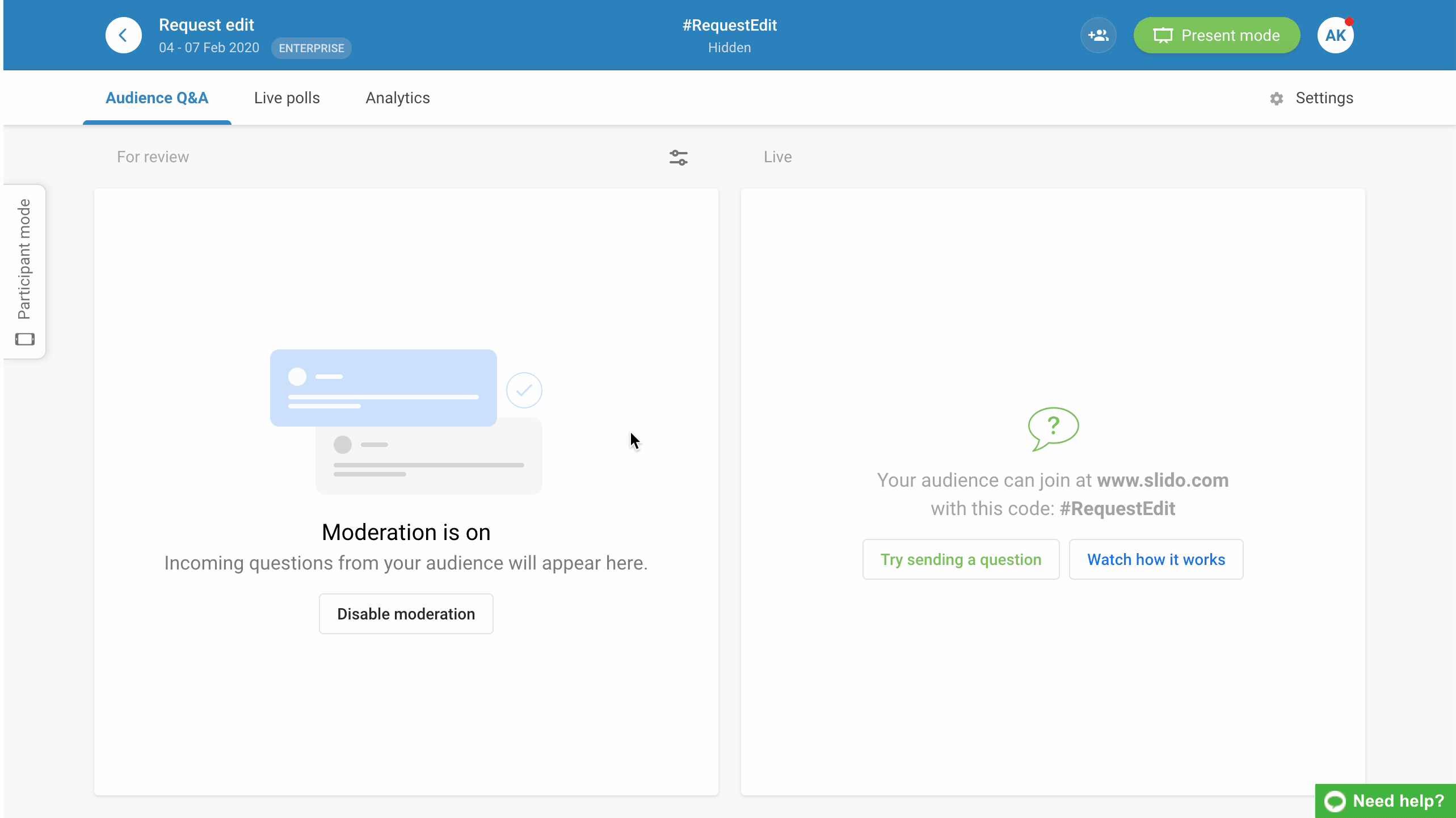 Highlight questions
When answering a question, you can use the highlight feature to make it obvious for the audience which question is being discussed. This affects both the Present and Participant mode.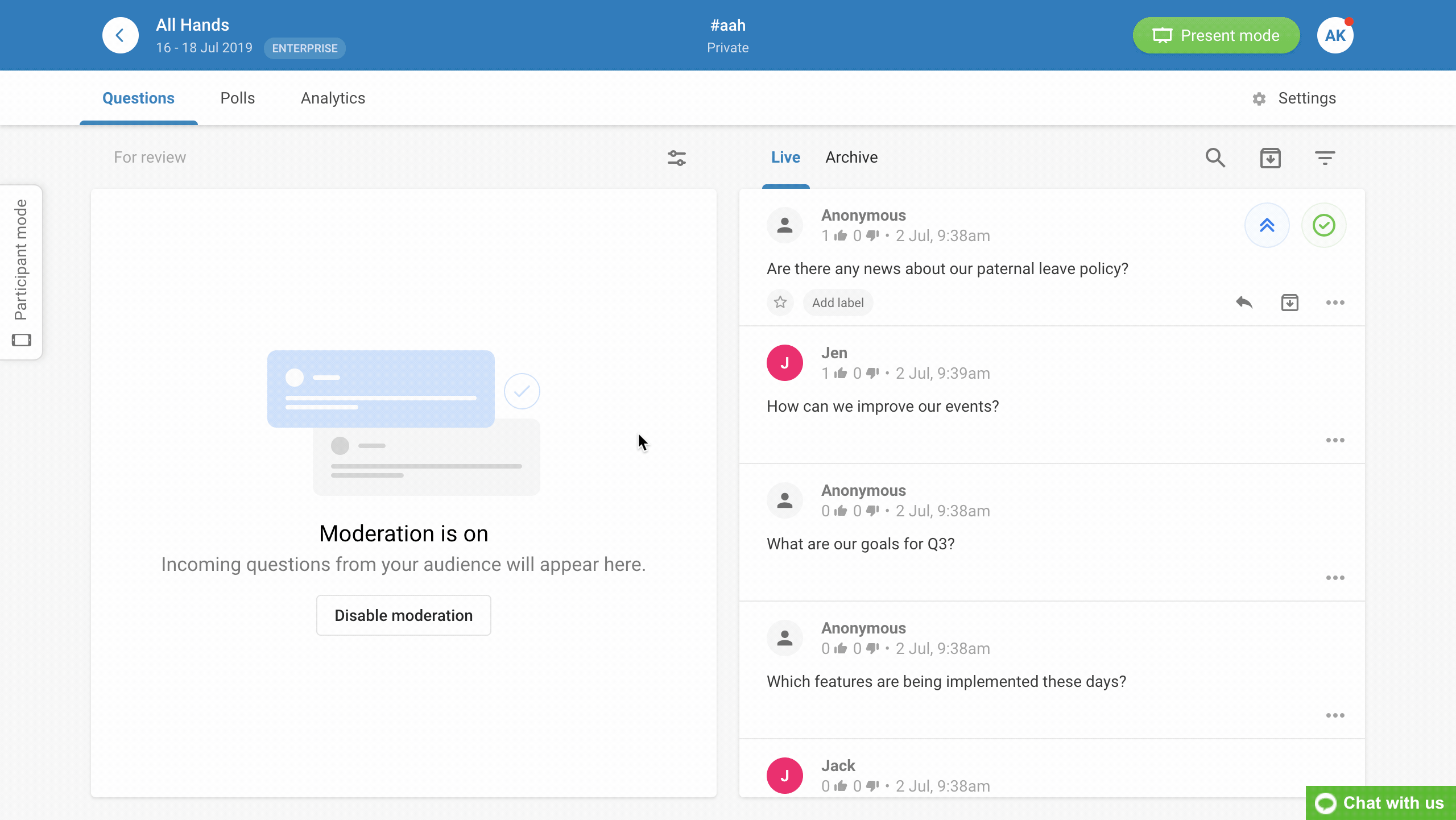 Archive answered questions
Once the question has been answered, you can easily hide it by clicking the Mark as answered to make room for the next question. If you don't wish to mark a question as answered, simply archive it.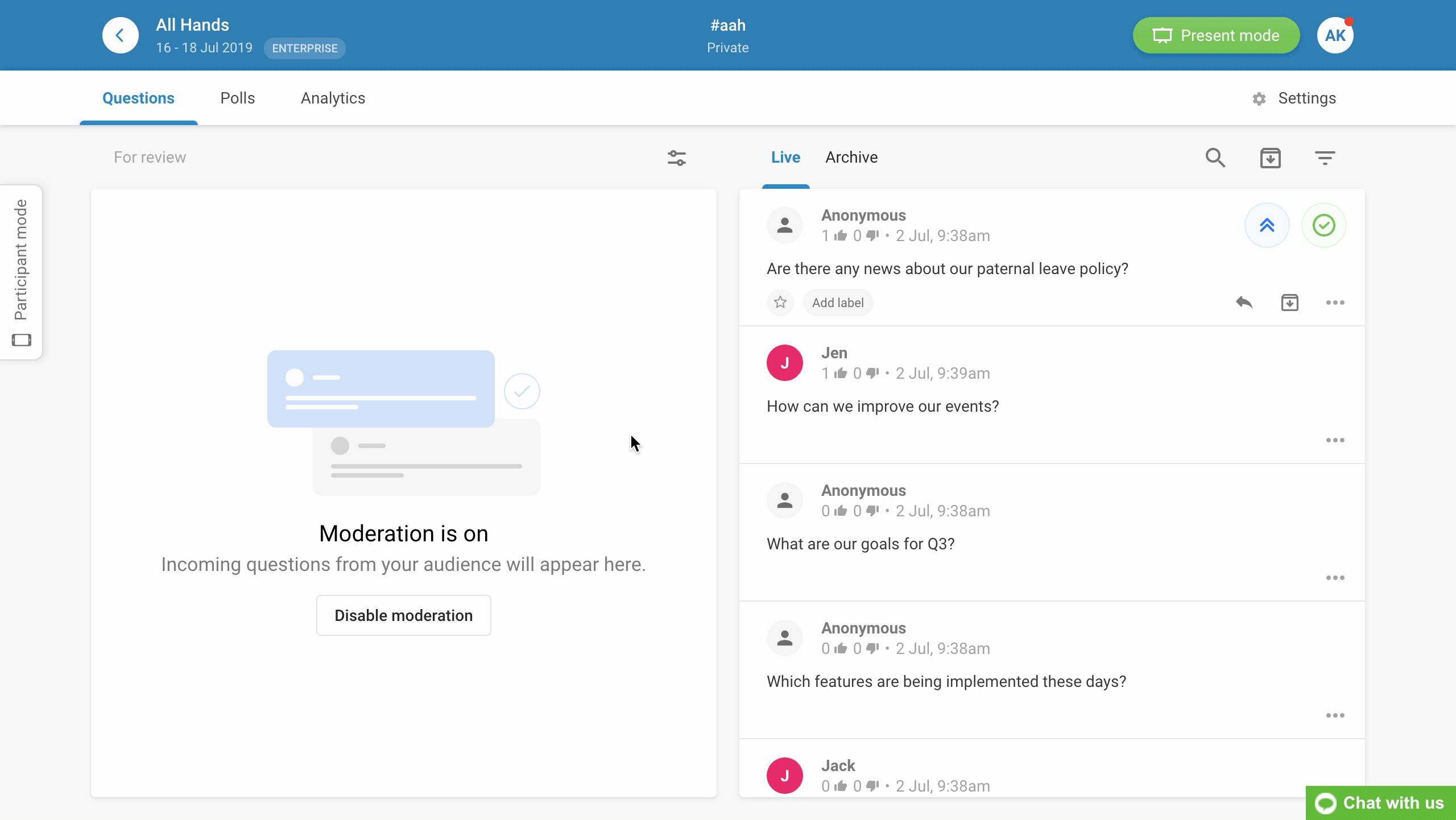 ⭐All questions are stored in the event archive and accessible through your Analytics

Label questions
Labels offer an easy solution to categorize and filter questions, making your meetings or Q&A sessions more structured and efficient.

Create the labels before the event
If you wish to have your labels ready to use before the event begins, simply go to the Questions section in your Settings.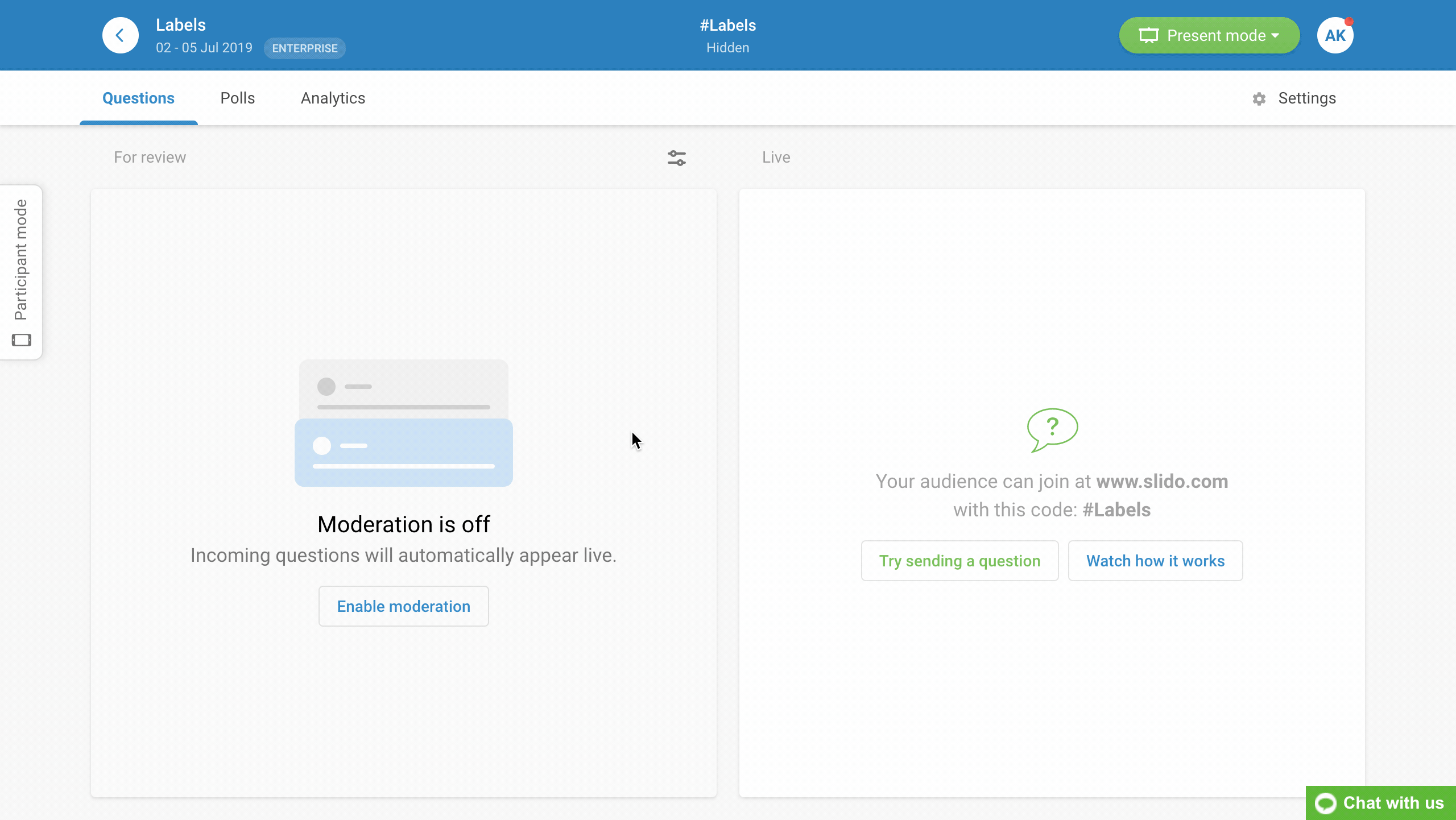 Add a label
To add your first label to a question, simply click the Add label button next to it. You can add more by clicking on the already assigned label.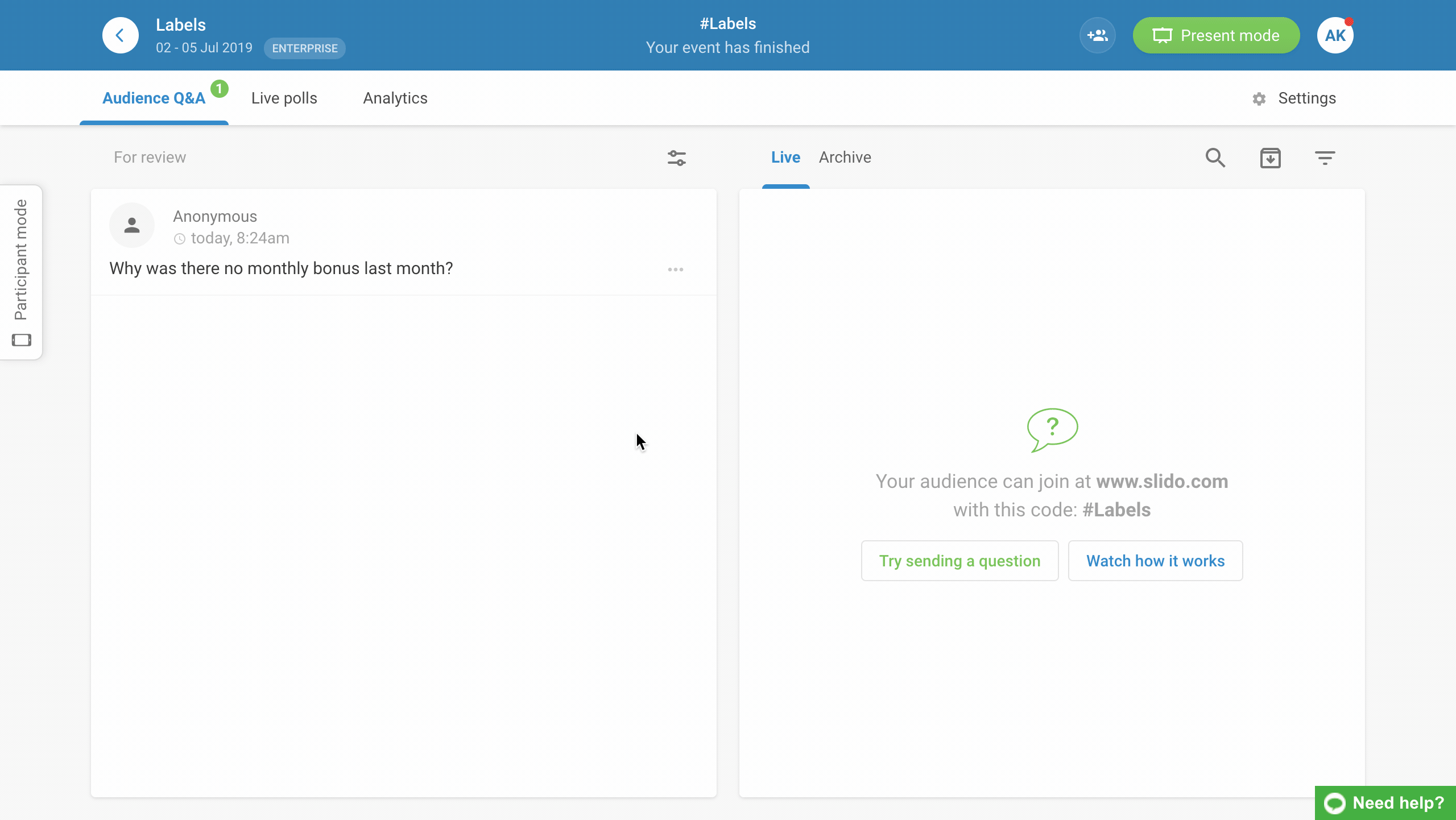 ⭐You can label both live and incoming questions (if using moderation)

Filter your questions by labels
To have a better overview of questions, you can display them in your Admin view based on the assigned labels.
Click the Filter icon above Live Questions
Choose which label you wish to filter
Once you want to see all your questions, simply switch back to Filter all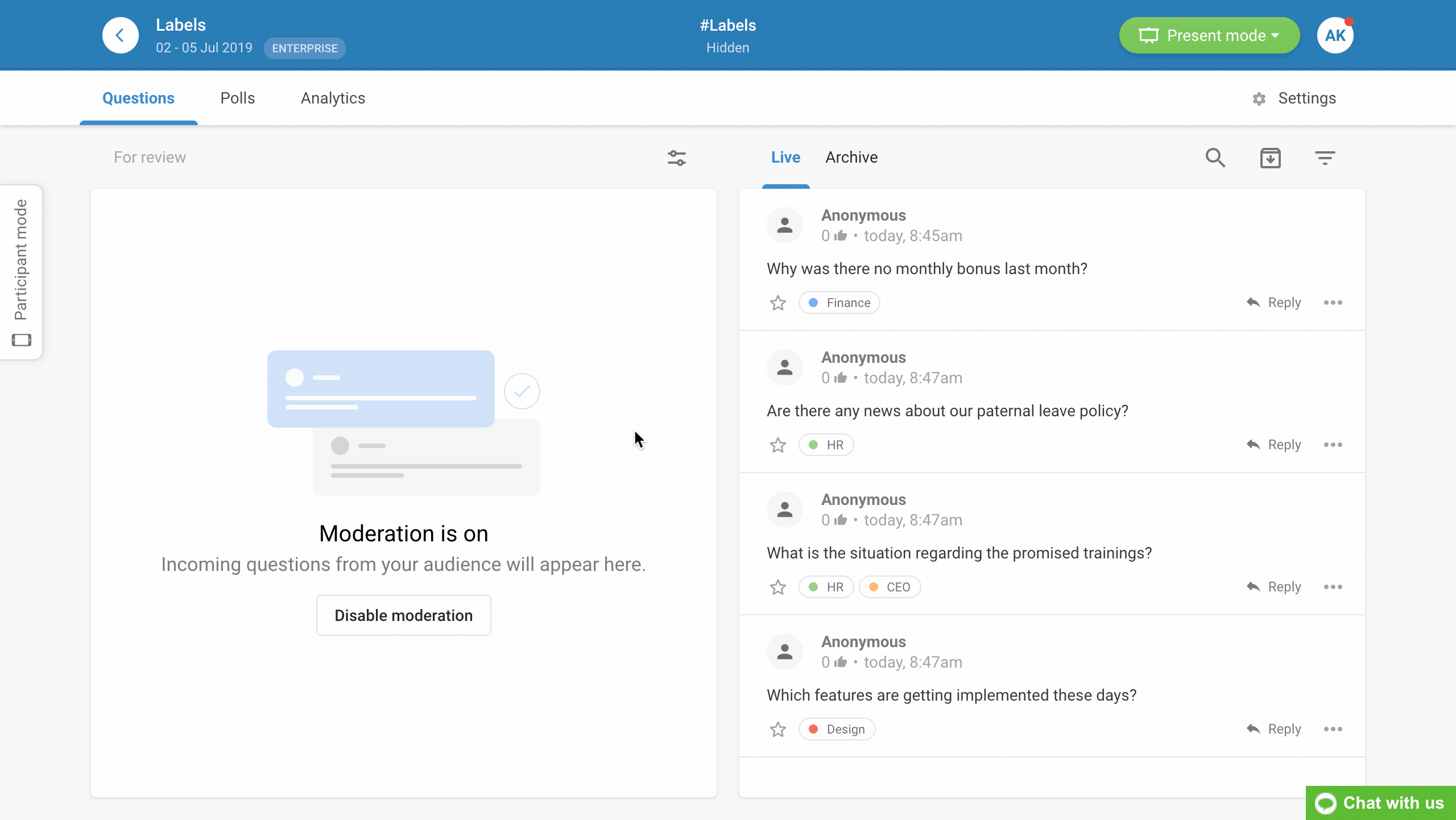 🚀Filtering affects both the Admin view and Present mode

Change labels on questions
You can remove or add labels at any time during your Q&A.
Click on a label next to the question
Choose which labels you wish to apply to the question or add a new one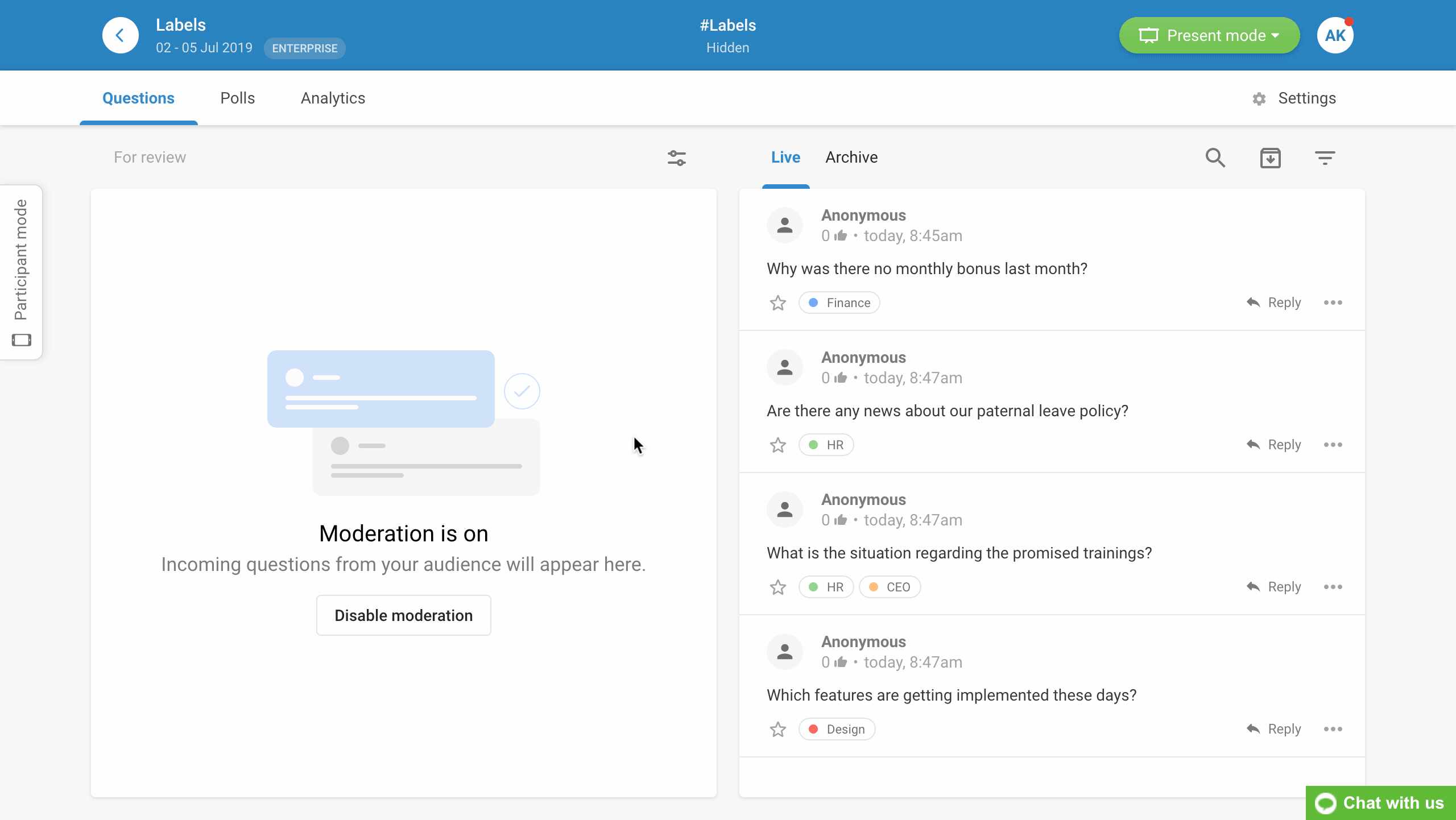 Edit or delete labels
If needed, you can change the names and colors of your labels, or simply delete them.
Click on any of your labels
Choose the pencil button next to the label you wish to edit
You can now change the name and color of the label or delete the label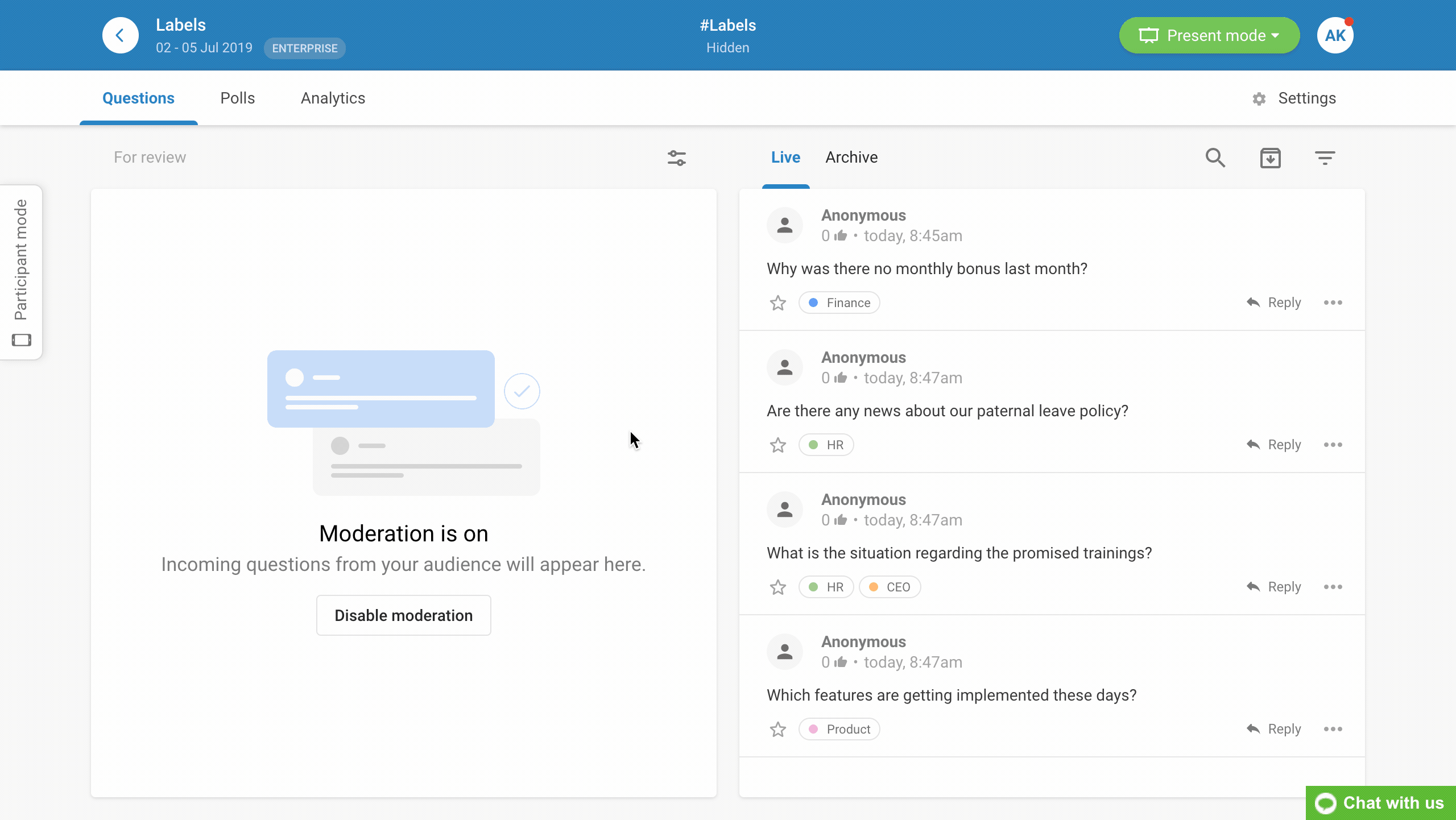 Useful tips:
Tip 1: Collect unlimited questions from your audience
In any of our plans including the Basic plan, your participants send unlimited questions.
Curious about more?