Many midsize and large events have a robust AV setup in the plenary room. But once the event breaks into separate tracks, the breakout sessions tend to be equipped with just one computer. To make the experience smooth, you can install the Switcher on the computer and:
Seamlessly display top questions for the speaker after the presentation
Activate the polls seamlessly for your speakers
Let your speakers activate the polls by themselves
Setting up the Switcher
Download and launch the Switcher on the computer in the room
Sign in with your Slido account and choose your event
Important! Select the room that you are in.
Minimize the Switcher and let it run in the background
Remember to connect your computer that runs the Switcher to the projector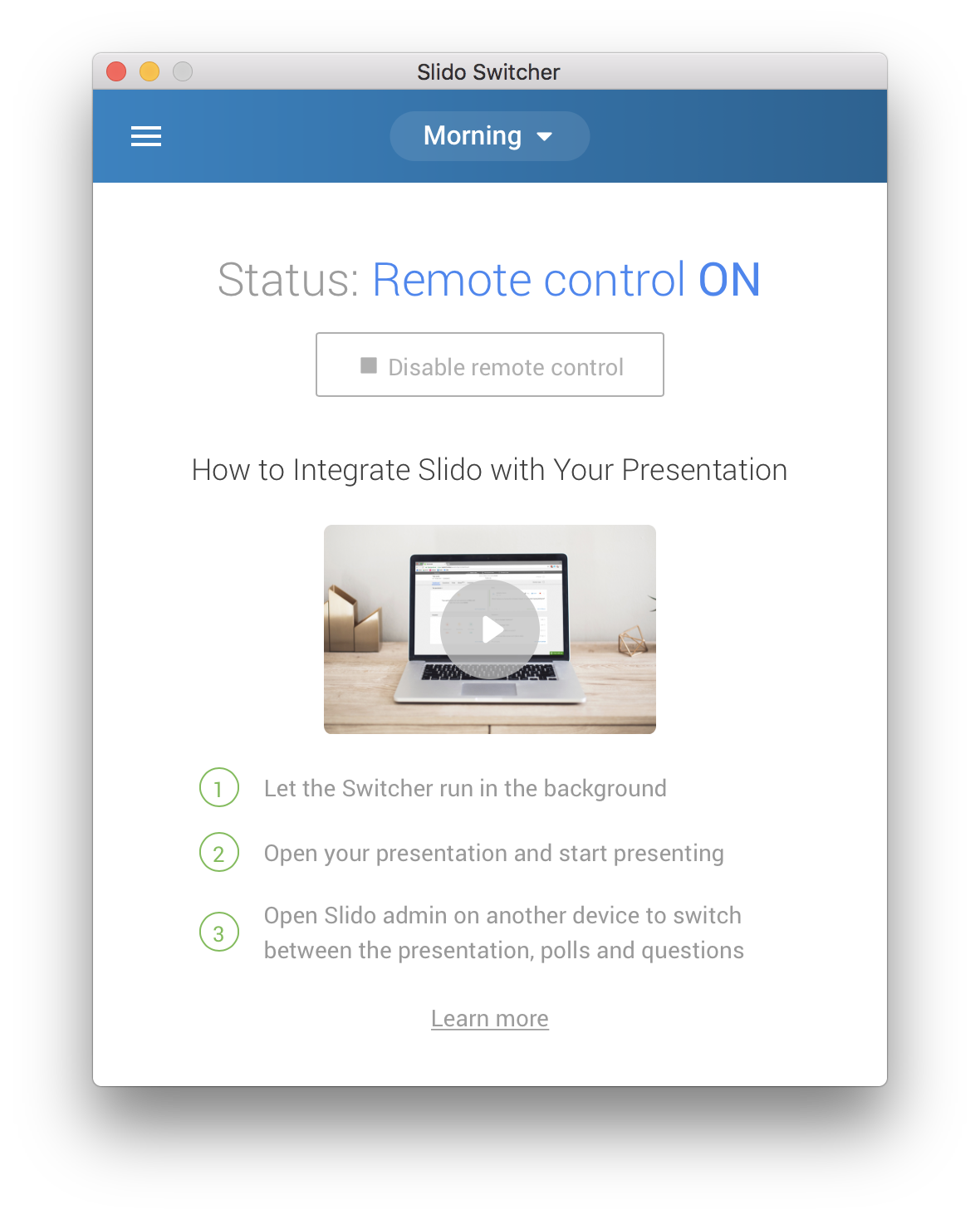 Start Your Speaker's Presentation
Open your speaker's PowerPoint, Keynote or PDF slides and start presenting on fullscreen.

Managing Slido in the breakout rooms
The Switcher allows you and your team to use a secondary device such as your smartphone, tablet or a computer to seamlessly activate polls and display questions. You can think of it as the remote control.

Most events have a dedicated staffer to manage Slido for their speakers in the breakout rooms. At larger events, we highly recommend having one staffer for each breakout room.
Getting Your Staffers Manage Slido for your speakers
Log your staffer in and access Slido Admin view on his/her secondary device. Make sure to select the room that they will be managing.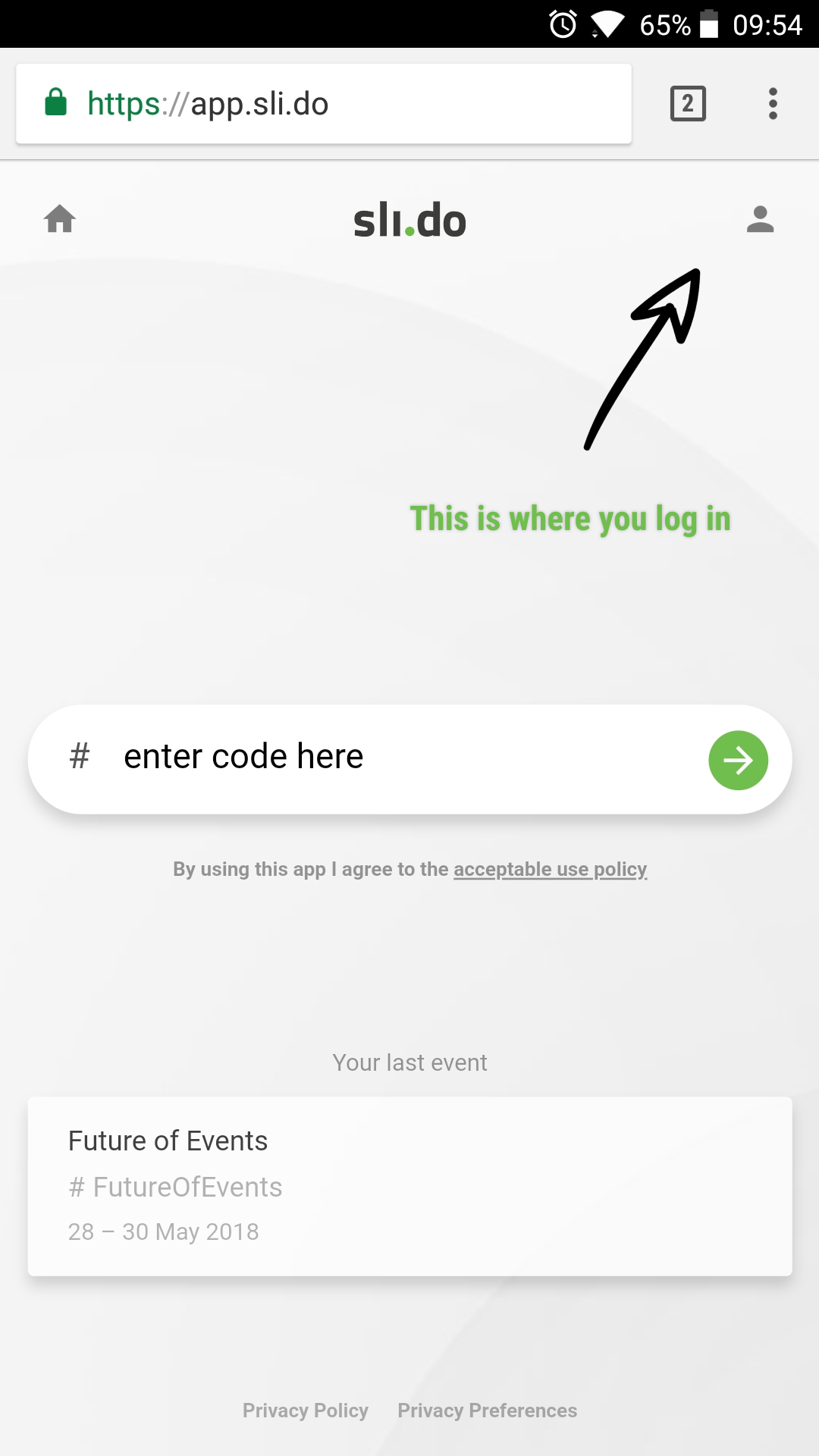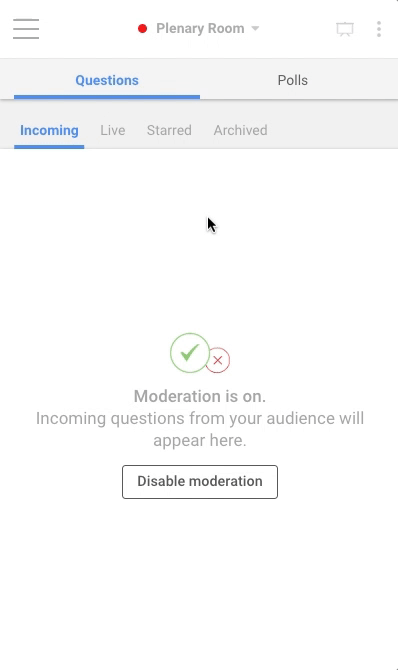 Letting your speakers manage Slido themselves
In case your presenters would like to manage Slido themselves, you need to log your speaker in on his/her own device with the login details of your event. Make sure that they select the room where they'll be presenting (as explained above).
Then, show them how to activate polls and display questions (see below).

Activating polls
You can activate polls during the presentation at any time and display them live to your audience on the screen as well as their mobile devices. Click play to activate the poll and click stop to return back to your presentation.
Displaying questions
If you want to display questions from your remote or a computer, simply select Questions from the Showing live bar.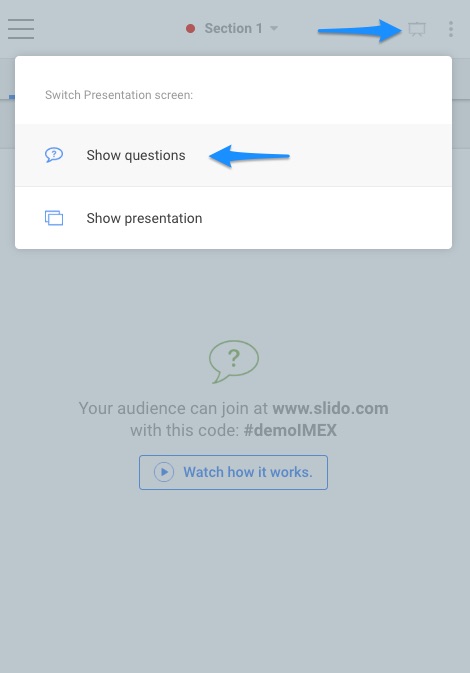 ⭐ Protip: Use a keyboard shortcut Ctrl + Alt + D for Windows or Ctrl + Option/Alt + D for Mac to display Slido