When used well, Slido can make your corporate meetings or training sessions more productive and engaging. To get the most out of Slido, it's important to follow a few simple, yet crucial steps.
This article contains 7 essential tips that will help you set up and manage Slido at your meetings successfully. Simply click on the specific step to learn more.

In this article:
Invite people to join Slido before the meeting
Along with sending the meeting invitation, let people know that you'll be using Slido. You can attach a Slido link in order to start crowd-sourcing questions or collecting feedback with live polls before your meeting.
Find an invite template here.
Plan your technical setup
If you are using Slido for your meeting or training session without having a presentation at the same time, you can simply display Slido from your browser. All you need to do is open Slido admin page, select Present mode from the top bar and hit fullscreen, it's that easy!

If you plan on using only one computer for running your presentations and Slido, we highly recommend using the Switcher. It will allow you to switch seamlessly between your slides and Slido polls and Q&A.
Download the Switcher, log in, and select the event
Open your presentation and start presenting
Log in to the Slido Admin on another device to manage Slido
Learn how to set up the Switcher here or discover other setup options here.
Synchronize and test before you start
To activate polls and push Q&A on screen, you need to be logged into your account and manage Slido from the Admin tab. As a presenter or a trainer, you can easily manage Slido on your own using your smartphone, tablet or another computer.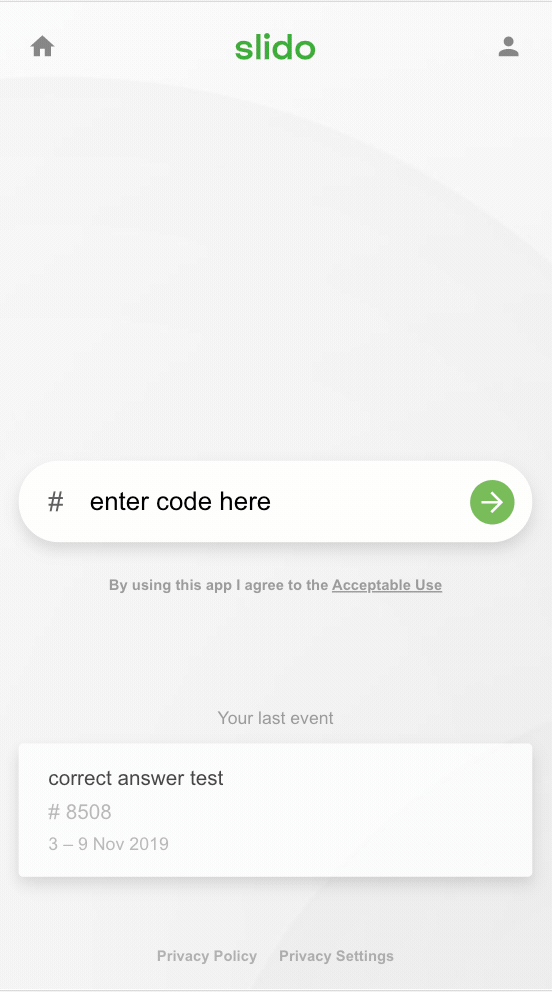 If you plan to have an assistant to help you with the meeting, they can log in on their own computer or smartphone and manage Slido from there. Then, discuss the sequence of slides, polls and Q&A to know when to display which component.
Pro tip: Display the Present mode and submit a few test questions. If you plan to use polls, send a vote to check if everything is running smoothly and if people can read the font easily.
Introduce Slido at the start
Introduce Slido at the start of your meeting. Encourage participants to submit their questions and upvote the submissions that others have posted. If you're using Slido for the first time, you can run a warm-up poll that will help people get familiar with the tool.
We put together a simple intro script here.
Manage questions during the presentation
To make a question stand out, you can highlight it. Once it's answered, you can simply make it disappear by archiving. You can also highlight and archive questions from your phone. Look how simple it is: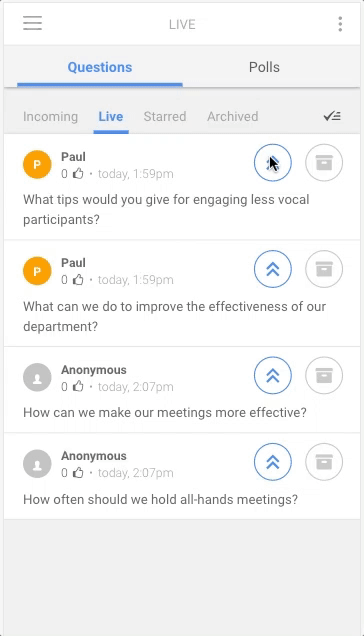 This is how it looks in Present mode: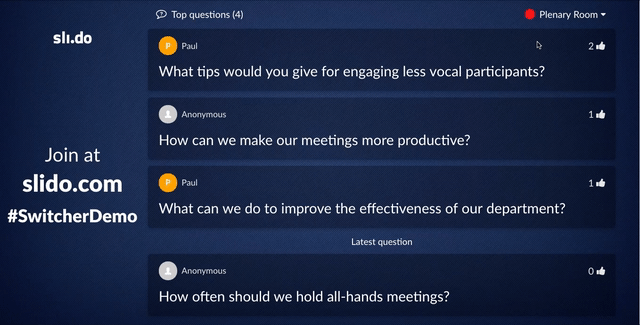 If you present solo, it's easier to keep the moderation off so when you decide to display the questions to the audience, the top ones will already be in the Present mode.

If you'd like to turn the moderation of questions on, we recommend asking an assistant to help filter the incoming questions. Encourage him/her to approve questions as soon as they come in. This way people will feel heard and will have the chance to upvote the questions the others have posted.
Watch this short video (1:25) to learn how to approve questions.
Run polls during your presentation
If you're using the Switcher, simply click play in the admin to activate the poll. It will be automatically displayed on your presentation screen. The results will update in real-time as the participants send in their votes.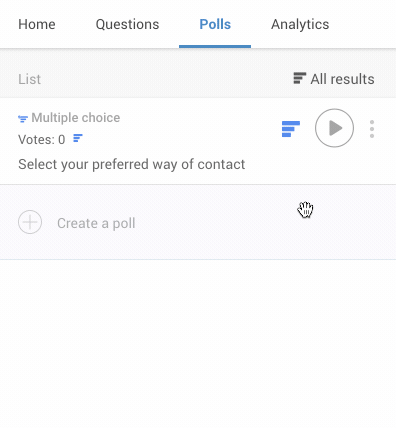 Comment on the results to put them in the context of your talk or refer to them to kick-start the conversation.
If you want to move on with your presentation, just click stop to return to your slides and continue.
Watch this video (1:41) to learn more about activating polls.
Export your event data
Slido captures all the submitted questions and the poll results during your meetings so you can share or process them later on. You can export raw data into Excel sheet, download PDF exports or for flashier reporting, share a link to the event infographic.